Cozy Winter Breakfasts for Freezer Cooking (FREE Downloadable Cooking Plan)
As an Amazon Associate I earn from qualifying purchases. For more details, please see our disclosure policy.
Looking for freezer cooking plans? After you download this plan, check out these other free printable plans.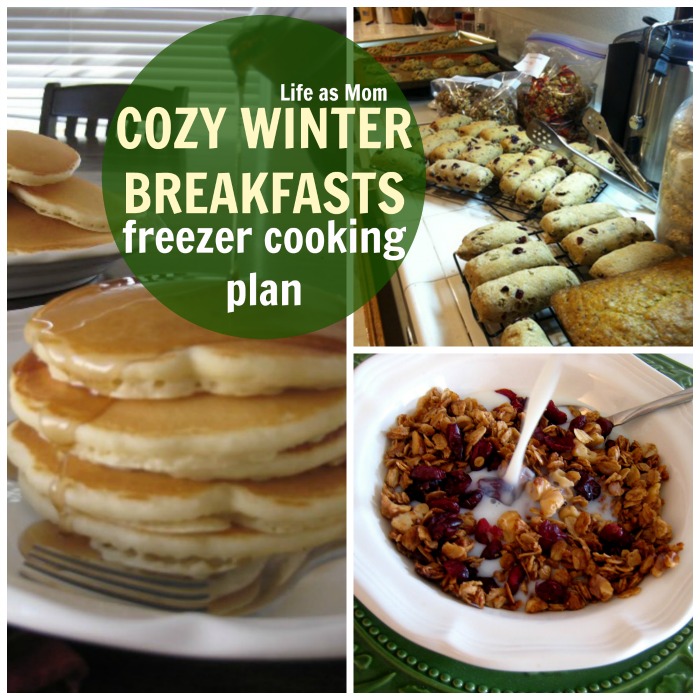 Yesterday I spent about four hours bustling about the kitchen. My mission? To get our breakfasts for the month prepped and in the freezer.
Breakfasts for freezer cooking?
Yes, indeedy. Breakfast foods like baked oatmeal, energy bars, granola, and quick breads freeze wonderfully. Pancake, waffle, and muffin mixes are easy to make ahead. And though we're doing a Pantry Challenge, I was able to pull it off with a lot of pantry staples that I already had.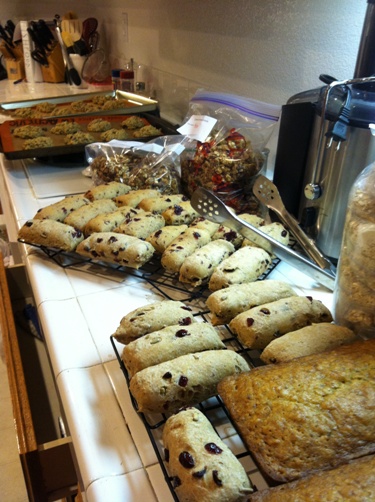 Here's what I prepped. The page numbers denote what page of my cookbook you can find the recipes.
Spiced Pumpkin Flax Bread, page 288, 1 batch, 2 loaves
Wholesome Energy Bars,* page 321, 2 batches, 24 bars
Better Instant Oatmeal Packets, page 257, 40 packets
Bulk-Batch Pancake Mix, page 258, 4 batches
Lemon-and-Honey Flax Waffles, page 264, 2 batches
Cranberry-Orange Granola, page 255, 2 batches
Breakfast Cookies,* page 267, 1 batch
Raspberry Baked Oatmeal, Good Cheap Eats, 2 batches
I think we're set, don't you?
Cozy Winter Breakfasts Cooking Plan
I prepped the cooking plan for your benefit as well as mine. You can download the whole shebang, including grocery list and cooking directions and get to work pretty quickly.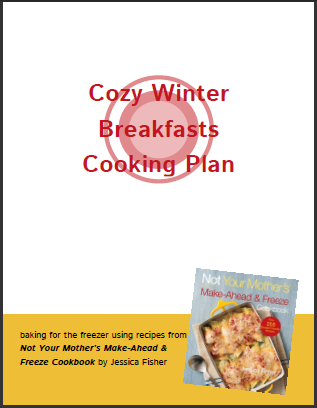 I did make a few substitutions based on what I had. For instance, I didn't go out and buy oranges for zesting, but used lemon zest from the freezer instead. I was fast and loose with the cooking oils, using sunflower instead of olive or coconut where applicable. You can make the same kinds of substitutions without a problem.
With school starting back on Monday, I wanted to make things as easy as possible. I think this will do the trick.
Have YOU done any freezer cooking lately?
Do tell.