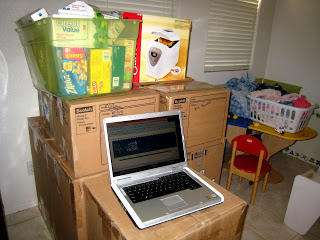 As you can imagine, when you pack up three adults, six children, and a 3000+ square foot house, things are a little, well, busy. We started our school year early enough that I could feel good about taking 2 weeks off. The past week has been spent haphazardly packing.
One night, surrounded by boxes and odds and ends that didn't really belong anywhere, I turned to my husband and said, "This is what moving is like, isn't it?"
We've moved four times so far and each time I kick myself because I don't feel super organized. Everything feels jumbled and disordered. Certainly other people do it better than this?
But, this is how the FishFam does it. It's kinda crazy. And I need to come to terms with that. If I embrace it, maybe I won't feel so bad. This is how we do it. And that's okay.
And with that conclusion is the realization that I won't be able to post like I wanted to around here. I have a few guest posts, thanks to some good friends, that I will spread out over the next two weeks.
But, life is crazy around here. Whatever spare minute I have from cramming 2 tons of legos into a cardboard box, I want to spend with my family. They are excited about the change, but it's still change. I anticipate night waking, fussing, squabbling, lots of extra energy.
Sounds like it's time for a media break, doesn't it? So, FishMama's unplugging. When I get back I hope to have lots of funny stories to tell — like leaving the crockpot unplugged ALL day when it should have been a perfectly planned, perfectly COOKED dinner — as well as a virtual tour of our new house. The story of it is a good one. God did have something better.
Your prayers are appreciated. See ya on the other side!
PS. Don't forget to enter the two giveaways I have going. Here and here.