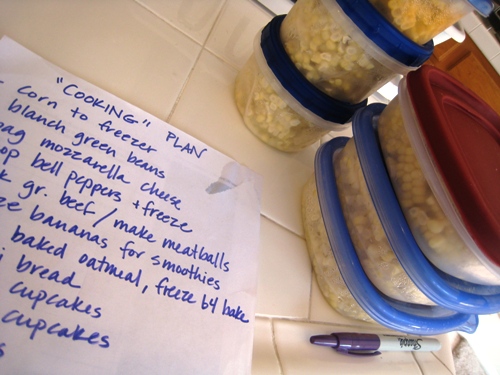 Can I give you some tips when it comes to freezer cooking and/or cooking in general?
1. Don't plan on a lot of cooking for the freezer on the day of your daughter's birthday when you've promised her a beautiful fairy cake and a dress shopping trip. You will only stress yourself out because there are too many things on your plate, and it's your fault that it's like that.
2. Don't make a list so long that no human being could do it on their own, let alone one who has help, aged 2 to 4. Moderation is good in all things, even freezer cooking.
3. Never ever bake an eggless chocolate cake with extra virgin olive oil. It won't work. Trust me on that one.
I did all three things on my last freezer cooking day. And while the day started out all fine and dandy, I started to feel anxious right around lunchtime. Luckily, I was holding my list "loosely" and felt okay not to get it all done.

Recent Freezer Experiments Experiences
Stew Starters – I saw on Pinterest the idea of putting uncooked slowcooker stews in freezer bags and freezing them that way. The examples I saw included a lot of vegetables that I thought might be too vulnerable for freezing without blanching them first. So, I opted not to take that exact route. But, I did do some experiments by creating three different stew starters: bags filled with meats,seasonings, and aromatics that can be dumped in the slow cooker. I am excited to try these out this month.
Freezing Co-op Produce – We recently joined an organic produce co-op. Since I didn't want to feel stressed about using everything up in a short amount of time, I made a point of processing the corn and beans to freeze. This was great because now we'll have the tastes of summer a month or two down the road. Capturing summer in the freezer – who knew?
Baked Oatmeal Unbaked – I'm testing out my Raspberry Baked Oatmeal for the freezer. This time I used blueberries instead of raspberries and I froze the casseroles before baking.

My Overly Ambitious List
I don't know what I was thinking! I ended up taking shortcuts, delegating things to kids, and changing plans midstream. The things that are crossed out are the things that actually happened.
corn to freezer
blanch green beans
bag mozzarella cheese
chop bell peppers and freeze
cook ground beef/make meatballs, changed this to: make meatsauce and hamburger patties
freeze bananas for smoothies (delegated this to a child)
make baked oatmeal and freeze
zucchini bread
zucchini cupcakes, changed this to: the fated chocolate cake with evoo
decorate cupcakes, changed this to: decorate cake
soak beans
carnitas in crockpot
instant oatmeal
pumpkin muffins
make stew in bags
pesto
roast, peel, and freeze chiles
cook chili
make mashed potatoes
bake hamburger buns
Overall, I'm pretty happy with the process and our freezer looks full again.
How did your recent freezer cooking go?

Curious about freezer cooking? Consider purchasing my cookbook, Not Your Mother's Make-Ahead and Freeze Cookbook from Amazon, Barnes and Noble, or your local bookstore. It's chock full with over 200 freezer-friendly recipes, planning pages, shopping lists, cooking plans, and basic and advanced how-to's to making freezer cooking work for any home, family, and lifestyle.