Create a capsule wardrobe from well-loved clothing items. You'll feel like you went shopping for free.

Today's assignment is to create a capsule wardrobe.
We often think that we need new clothes when really what we need to do is clear some space and give the clothes we already have new life. I've found that a capsule wardrobe ( a select combination of pieces that perfectly mix and match) helps me feel good about my body as well as helps me get ready quickly each day.
I spent a lot of time determining a wardrobe to take on our month-long trip to France. I was pressed for space, but really wanted to look good no matter where we were. (You can see everything I took here.) I packed very few items, but amazingly, I never felt under or over dressed. In France!
Creating a mix and match, or capsule wardrobe can help you feel put together all the time. It gets bonus points because laundry is quick and easy to do and you don't have that struggle each morning to figure out what to wear. The best part is that you can shop your closet to create one!
I've been doing this every season for several years now and I find that it gives me a boost and makes me enjoy my clothes anew.
Follow these tips for creating a capsule wardrobe:
How to create a capsule wardrobe:
1. Get rid of the stuff you don't like.
This is the easiest and best thing you can do for yourself. If it doesn't fit or you don't like it, GET RID OF IT.
Need coaching on this step? Go read this post about how to clean out your closet.
2. Choose two to three favorite colors.
I chose a few colors (blue, red, and teal) that coordinated well with each other as well as with black, white, and khaki.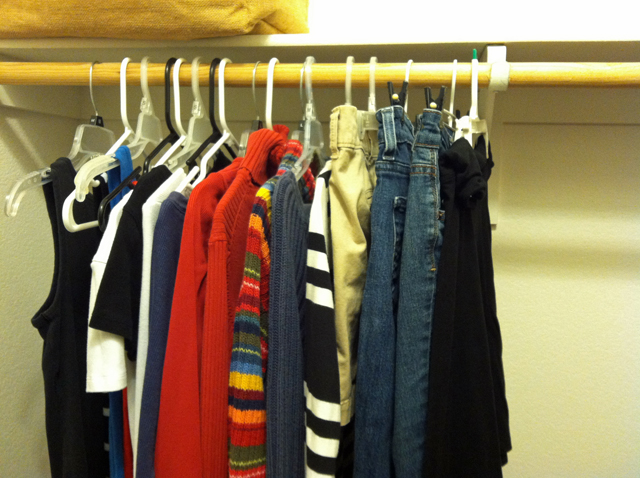 3. Pick out a week (or two)'s worth of clothes.
I do laundry once a week. On our trip, it was about as frequent. I have no qualms, however, about wearing my jeans a few times before washing them. I'm resurrecting my travel wardrobe with a few changes for the new year:
Here's how I've narrowed things down currently:
2 pair skinny jeans
1 black skirt
1 khaki short
1 long sleeve black and white striped dress
4 tank tops for layering: black, teal, red, and black-and-white striped
3 short sleeve tshirts: black, white, and khaki
3 long sleeve shirts: red, white, and navy blue
3 sweaters: red, striped, and blue
1 cardigan: khaki
Obviously, your weather and lifestyle will dictate different choices. Don't freak out that you'll have "nothing to wear". You'll be surprised how much less is more.
4. Put the rest of your stuff aside.
Isolate your chosen capsule wardrobe from the rest of the stuff you own. Don't get rid of the clothing that works until you know how low you can go in terms of a capsule wardrobe.
I've got things narrowed down to 19 items, not including shoes and accessories. I can make that work but I may also dig into my t-shirt stash if the weather doesn't cooperate with me. Amy over at MomAdvice has her capsule set at 37. You can check that over here.
The point of a capsule wardrobe is that your clothing choices are narrowed down to the items that you love and that work well together. Like my dejunking of the kitchen, it's actually more fun to use a few loved items than to dig through many things that I don't really like.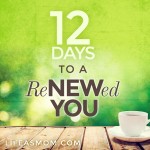 This post is part of a 12-part series, 12 Days to a Renewed You. You can read through the archives here.