Create a Family Playlist (12 Days of Christmas Family Fun)
As an Amazon Associate I earn from qualifying purchases. For more details, please see our disclosure policy.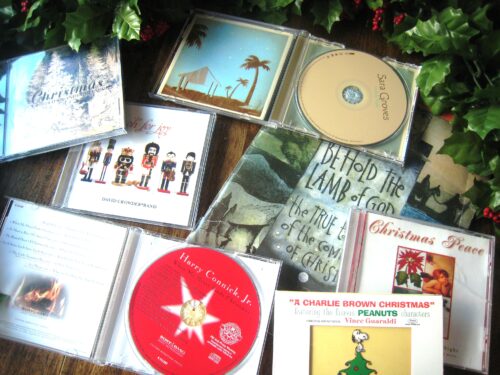 Christmas carols are a hallmark of the Christmas season. There are some songs, like Nat King Cole's The Christmas Song or Bing Crosby's Silver Bells, that take me back to a certain time and place in my childhood.
They are special and evoke happy feelings that I really can't explain.
My siblings and I used to drive along in the car, singing carols together. And I was the geeky little girl swooning over Bing Crosby. Little did I know he was old enough to be my grampa!
I hope that by playing special Christmas music for my kids, we are creating those musical memories for them as well. My favorite album, Andrew Peterson's Behold the Lamb of God, is actually one that we played in the hospital room when my daughter was born. Yes, really. Last year I put together a playlist of some of our favorite Christmas songs to burn to a CD for the looooooooong ride to Mammoth Lakes. And at some beautiful moment, there might even have been eight voices singing along!
This year, I splurged on a few CDs to add to the collection. I'm looking forward to working with the kids to put together a playlist of their favorites for us to listen to in the car as well as at home. And maybe, eight voices will sing along.
Create a family playlist
If you have an account, you can store your current collection as well as purchase music on iTunes. It's really not difficult to put together a playlist. You can rip your CDs to your library and then mix and match songs until you have something you like. And at a buck a song through either Amazon or iTunes, you can put together a custom list for pretty cheap without even owning an existing collection of CDs. And honestly, some of the complete albums are not that expensive. (I like having a hard copy.)
Here are some of albums you might like:
What's YOUR favorite Christmas album?