Cuddle with your Peeps
We are a participant in the Amazon Services LLC Associates Program, an affiliate advertising program designed to provide a means for us to earn fees by linking to Amazon.com and affiliated sites. We participate in other affiliate programs as well. For more details, please see our disclosure policy.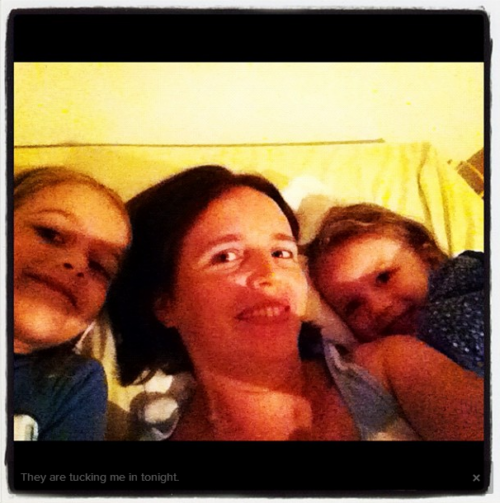 Forgive the blurry Instagram photo. It's what happens when it's late at night and you're not using a flash. This is me and my girls, following a new ritual.
In an effort to get myself to bed earlier, I've invited the kids to come tuck me in.
I realized that I was neglecting making the rounds because I was so tired by the time the kids' bedtime rolled around. Some of them are big enough to put themselves to bed. But, I didn't like that trend of not really wishing them all good night.
So, I started going to bed earlier and inviting them to come to me to wish me good night.
The big kids were pretty stunned and amused.
The bigger kids were happy to lie on the big bed for a few minutes and talk about the day.
I felt relaxed. I was all ready for bed.
My girls are addicted to this and want to cuddle every night.
It hasn't worked out too well to make this a nightly thing, but a couple times a week to cuddle and talk about the day is working really well. And I'm trying to be good about making the rounds on the other nights, too.
How we end the day matters and sets the tone for a good night's sleep — and a better tomorrow.
Cuddling with my kids is a great way to stop and smell the roses.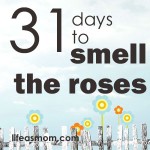 The days are long, but the years are short. I don't want to miss them! For more short and sweet ideas on how to stop and smell the roses, to enjoy the little things in life, check out my 31 Days to Smell the Roses series.
Don't miss a post in this series. Subscribe to 31 Days to Smell the Roses by RSS or email.