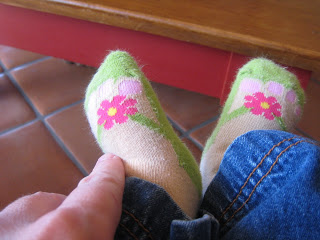 My sister Jamie bought these for FishBaby when she was born. They are so stinking cute, I'm milking them for all they're worth. She's still sporting them – barely – at eight months of age.
In case you're like me and can't tell what they are until you put them on the wrong feet, they are baby socks made to look just like bare feet with pink painted toe nails, wearing flipflops!
How cute is that?!
What kind of cute feet are you or your kiddos sporting these days?