Deal Shopping During Busy Times (or Whatever Happened to the Grocery Geek?)
We are a participant in the Amazon Services LLC Associates Program, an affiliate advertising program designed to provide a means for us to earn fees by linking to Amazon.com and affiliated sites. We participate in other affiliate programs as well. For more details, please see our disclosure policy.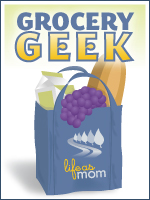 Some of you mentioned in my recent survey that you miss my shopping and deals posts. You're not alone. I miss them, too. In fact, I simply miss the deal shopping.
But, my schedule has gotten packed really tight this last month preparing for the end of the school year, the birthday season at our house, writing a cookbook, and keeping content going both here and Good Cheap Eats.
As a result, one thing that has fallen by the wayside has been regular deal shopping when it comes to groceries. I have a huge stack of coupons waiting to be clipped. Huge! I'm hoping to tackle it this weekend.
But, I'm still a grocery geek.
Though behind in my coupons and not actively scouring the deals, I'm still doing what I can to keep our grocery bill as low as I can. Here are some of the strategies I'm using.
1. Stick to a few stores that offer great deals.
I've narrowed it down to Costco and Walmart to get me by. While neither carries everything I need or want at the prices I want to pay, both do a fairly good job of staying on the low end of things. So, if I can't keep up with all the sales and coupons, these are a great fall-back for me.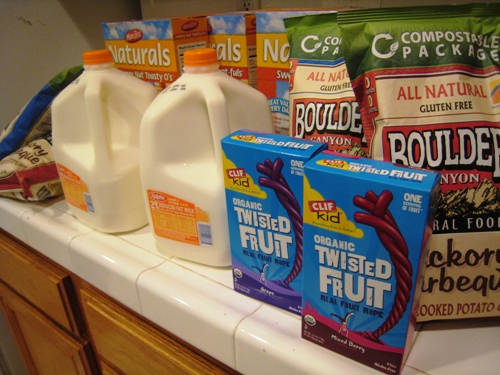 2. Send your little brother to go shopping.
Yes, really. One night he came to take one of the boys someplace and I sent them with a stack of coupons and a list. They were already going out and letting them do the shopping for me saved me a good hour to 90 minutes that I could spend some other way. The above picture features about $10 worth of groceries.
3. Cruise the clearance when you can.
In addition to Costco and Walmart, I have also made a weekly stop into Ralphs. They offer great markdowns in all departments and so I cruise those pockets of the store when I can. But, I try not to sweat it. You can only do so much.
4. Live without it.
Have I caught glimpses of good sales or heard whispers of great coupon deals? Yes, I have, but I've turned a blind eye to them. I just don't have the time to do everything, so I'm letting that slide for now.
Our grocery bill is not going sky high, we are just getting by with less "extra" — and that's okay. But, I am looking forward to summer vacation and turning in my manuscript. My freezer is so full already, I think we could eat all summer long anyway!
What do YOU do?
How do you manage a busy schedule and deal shopping?