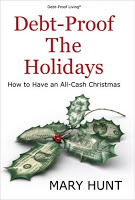 Great suggestions for how to be frugal this season. Thanks for playing, everyone!
Our winner is Melissa, who said,
I have started planning the menus for our meals and cooking more 'home-cooked-meals' . . . and clipping coupons and then ACTUALLY taking them with me, list in hand, to the store when shopping.
Melissa, please send me your mailing address to lifeasmom @ sbcglobal . net (remove spaces.