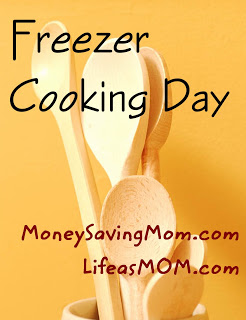 I may hate myself in the morning.
You see, I've devised a rather ambitious plan for this month's Freezer Cooking Daze. It may take all that I have and then some to accomplish it. But, I know that the crazy cooking I did last month really paid off.
With the upcoming Christmas holiday and family get-togethers as well as a visit from good friends at the end of the month, I know I don't want to spend too much time in the kitchen this month. Unless it's to bake cookies with my peeps.
Like last month, MoneySavingMom and I will be liveblogging and tweeting our cooking adventures. You can follow along here or there, or at our Facebook Event page, or on twitter.
So, for better or for worse, here's my plan for the week's freezer cooking days:
Breakfasts and Breads
hot cocoa mix
granola
biscuit mix
Main Dishes and Sides
shredded beef for beef taquitos, beef tamales and shredded beef and gravy
beef ragu
meatballs
taco meat
macaroni and cheese (one reader told me this was "life changing!")
roast turkey
turkey enchilada casserole
turkey pot pie
pinto beans
red sauce
mashed potatoes
Snacks and Sweets
Chocolate Mint-Mountain Top Cookies
Annie Hall's Butter Cookies from Susan Branch
Snowball Cookies
Slab Apple Pies
Think I can swing it? Tune in and find out.