Declutter & Clean Your Bedroom (Zone Defense)
As an Amazon Associate I earn from qualifying purchases. For more details, please see our disclosure policy.
We're going on Zone Defense this year, tackling clutter and reorganizing our homes to suit us and the way we live. This month we're addressing our personal space. We've talked clothes closets, bathrooms, and bodies. Bodies?! Yes, bodies. This week, we're making sense of our bedrooms or other MOM hang outs.
The first area to organize on Zone Defense has been our personal space. As I mentioned a few weeks ago, if we start with us we'll feel better — and we'll set a good example for those around us. This week's task is to declutter and clean our bedrooms.
The bedroom is where you rest — and hopefully recharge your batteries. It's where you start and end your day. And it can also be the receptacle for all kinds of overflow, random kid toys, rolls of wrapping paper, and who knows what?!
I've heard folks get into arguments about making your bedroom a priority or not. It seems to be a hot button. I'm not here to push it. There've been seasons of my life when my bedroom was utter chaos, but I didn't have the heart to touch it. So, I get that.
But, since it's the place where you start and end your day, I think it's a good place to get in order. If you feel like this room can be a sanctuary of some sorts, I think it will empower you for the rest of your day.
Take back your space.
Bedrooms are very personal places, and I'm going to hazard a guess that your bedroom is probably set up differently than mine. Obviously, we don't have a ton of furniture here. We don't even have a cool bed. But, that's okay. Too many monkeys jumping on the bed would have gotten concussions on the headboard by now, I'm sure. Our bedroom contains our bed, two side tables, a chaise lounge, the exercise bike, a cedar chest, and a dresser.
I'm going to guess, though, that there are some basic parts of a bedroom and those will be the ones we address this week. You'll need to customize this plan for your own room.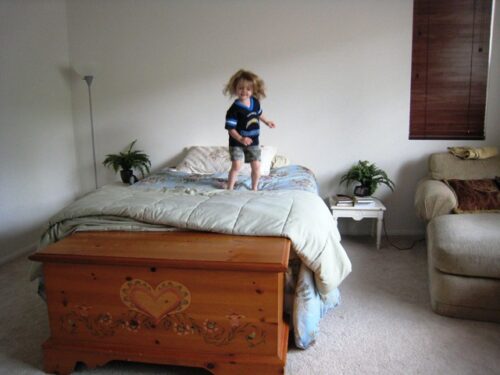 The Bed
Declutter: What's under that bed? Pull it all out. Yes, all of it. Pretend I'm your mom.
Pull it all out. Discard any trash or items that you no longer need or use. What are you keeping? Have a good reason for it. If it really needs to be stored under the bed, then replace it in such a way that it is orderly and easily accessible. Under-the-bed boxes are great for this.
Clean: Strip the bed and wash all the linens. Does anything need to be repaired or replaced? Do this now or make a plan to do so this week. (Download the Room Organizer Chart here and make notes as you go.)
Quite frankly, my mattress pad is looking a little sad, so I'm adding it to my list of things to consider replacing. We've got two comforters on our bed; one is 9 years old, the other is about 4. Both are showing some wear and need some mending. But, I've checked the prices of replacements. Holy smokes! I'm happy with what I have!
Remake the bed. Don't know how? Read how to make a bed here.
Dust the headboard, if you've got one, and the footboard as well. Fluff the pillows and move on.
The Side Tables
Declutter: What are you piling storing here? Empty the bedside table(s) and sort what's there. Discard trash and items you don't need. Replace what really needs to stay; find another home for the rest.
Clean: Dust or otherwise spruce up your bedside tables. Consider whether or not your tchotchkes need to stay there.
My bedside tables are nothing fancy. Bought them at the only two garage sales I ever shopped at. They are definitely in need of a paint job, so that is going on my list as well. The few books on hubs' side are getting moved to our regular book shelves in the garage.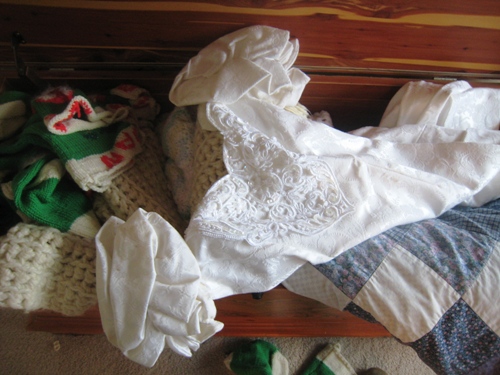 Other Bedroom Storage: Dressers, Chests, etc.
Declutter: Continue with your dejunking process in your other bedroom storage. You might have tackled the dresser when you did your clothes. If not, do the whole clothes purge here as well. Any piles gathering on the top of these items? Relocate it and better yet, consider the source of the problem and try to prevent it.
Clean: Dust and polish, if necessary. I just use a damp cloth for dust.
Other Bedroom Fixtures: Window Coverings, Ceiling Fans, Light Fixtures
These items probably don't need to be decluttered, but they do need to be cleaned. Dust or wash as necessary. Replace the light bulbs, clean out the bugs. Yes, really.
Make notes on your Room Organizer Chart of things that need to be repaired or spruced to make this room suit you best.
Your Piles
Many of us have piles of stuff and clutter. This room may be where yours congregate. If this is the case, take some time to start filtering through it. Since this task can be overwhelming, consider how you can break it up into doable bites. You'll want to start and complete each "bite" in a set amount of time, so you don't get sucked in — or find yourself in a bigger mess than you started. Been there, done that.
If you have to stop before completing the entire room, corral those items that don't yet have a home in a basket and continue the process at your next available moment. If you can't find one block of time to complete the whole project, break it into chunks that can be spread throughout the week.
So far this month, we've addressed our clothes, our bathrooms, self-care, and now the bedroom. We're almost done with the first zone. Hang on! Next week "should" be easy. We'll be sorting through purses, cars, and other personal space.
Check back in at the end of the month. I'll be posting a progress report on my zones, with pics — as well as a link up opportunity if you'd like to share your progress, too.
How are you doing on Zone Defense so far?