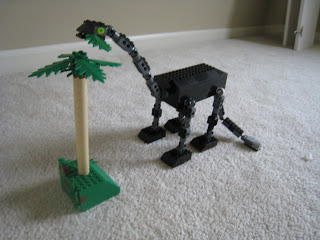 My boys are super intense about
Legos
. A small fortune in plastic bricks lurks in every nook and cranny of my home.
The FishBoys
love to create and then take photos of their creations. As a result, I have hundreds of Lego shots on the hard drive.
My youngest brother, now 22, is also a Lego-maniac. So much so that he was disappointed not to be around when a recent birthday boy opened his gifts. He wanted to be there to play with the Legos! My uncle, now 50-something, is bitter because he gave me all his old Legos — the original set! It seems that one never outgrows Lego.
Recently, I found this very cool blog:
A Lego a Day
. If you've got boys (and even if you don't) you'll enjoy the great photography and the cute, clever montages.