Salsa Verde Beef
We are a participant in the Amazon Services LLC Associates Program, an affiliate advertising program designed to provide a means for us to earn fees by linking to Amazon.com and affiliated sites. We participate in other affiliate programs as well. For more details, please see our disclosure policy.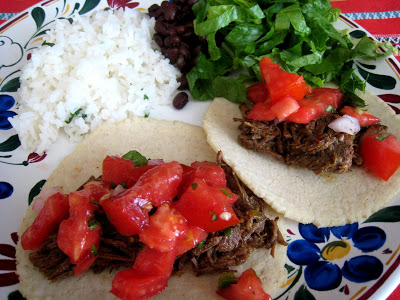 Sometimes my experiments in the kitchen go awry. I think up a good idea, but then upon execution, it hops off the track and the train wreck of a meal results in a trip to McDonalds or PB&J all around. Ugh, I say.
However, sometimes that doesn't happen and we're all so suprised and happy. Twice in the last two weeks I've seen great success with this recipe for Salsa Verde Beef. It is amazingly easy and very inexpensive. It was so good I had to make it again soon so I could share it with you.
The first week we had it in chili. About an hour before serving, I stirred 5 cups of cooked pinto beans into the crockpot and we ate it as Chili Burritos. The crowd talked about it long after the dishes were done, so I knew I could make it again without fear.
(I'm being serious. I've had a mutiny on my hands at the dinnertable before.)
Then this week, I made Salsa Verde Beef with a 3 pound roast (instead of 2#) and served it as tacos. Yummy! It was even good in a taco salad the next day. Definitely NOT a train wreck, this recipe works for me!
Do you experiment in the kitchen? How does it go? Any successes?