This is part 26 of the Kitchen Time Savers series. Today we're talking dejunking.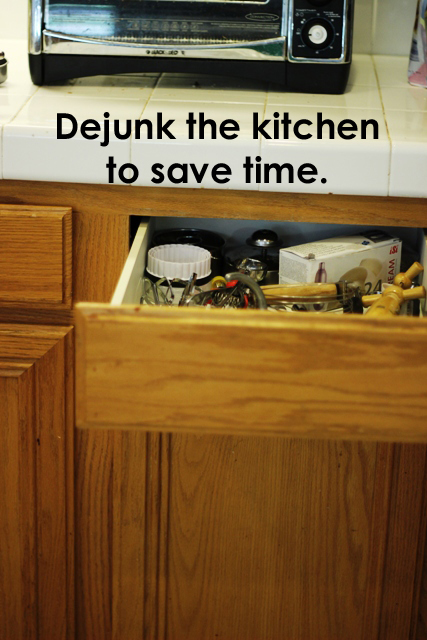 I don't know how it happens, but eventually our homes fill up with clutter. I swear I don't go out and buy a ton of stuff, but somehow it finds its way to my house, particularly to my kitchen.
This week, I pulled out the contents of cupboards and drawers and did some decluttering. I reorganized dishes, chucked some superfluous gagdets that I never use, and otherwise set things to rights.
Not only does it feel good to let go of excess baggage, but it also helps me save time in the kitchen. When the things in my kitchen are the things that I regularly use and love,
I don't spend time hunting for the thing I want amid a bunch of stuff I don't need.
there's more room to put things away.
my family can help me put stuff away as well as help out more in the kitchen.
Plus, it just feels nice to see things arranged in an orderly manner.
Other ideas for organizing your food storage:
Do you regularly dejunk your kitchen?
Do you have a special process you follow? What's your story?
This post is part of the Kitchen Time Savers series. You can follow along this month as we explore lots of ways to make more efficient use of our time in the kitchen.

Don't want to miss a post in this series? Subscribe to 31 Days of Kitchen Time Savers here. Get updates via email here