I've always been one who loved parties. Any cause for celebration and I'm there. If I could afford to be Martha, we'd have some big shindig every week, complete with engraved somethingorothers and matching whatchamacallits.
My husband, on the other hand, prefers things a little more low key. (Lucky for him that we're not rich, eh?)
The idea of a party just makes me smile. I've always been like that. Just ask my mom.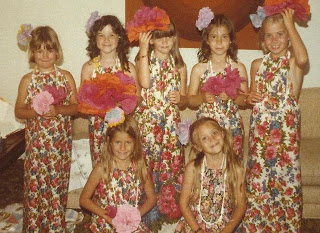 Here I am (bottom right) at my seventh birthday party. My imagination must have gone wild, and my mother indulged it all, right down to sewing a dress for each guest and making tissue paper flower hairpieces! We even had a roast pig cooked in a pit in the backyard.
(Not really, but I wanted one.)

So, when I heard about the Ultimate Blog Party, I thought, I wanna go! So, here's my little post to say, "Hey!"
My name is Jessica. My parents call me Jessica Ann. My kids call me Mama. My husband, sweet man, calls me Super-Ultra-Lightening Babe. (Really, it's programmed into his cell phone that way. Well, abbreviated, anyway.)
And I've been known to go by FishMama as well.
This blog, my little home away from home, is my effort to bring encouragement and inspiration to other moms. It's a tough job, being a mom, but it's a great one.
But, no one wants a crabby mom. So, it's important — for all of us — to have a good attitude. And so that's my overall theme here, how can we find JOY on this journey?
I write about a variety of topics here at LifeasMOM.
** I love food and talk a lot about it. My readers and I swap recipes every week.
** My husband and I have been on a journey to get out of debt. We paid off a chunk of change over the last two years, about $18,000. We are now in the black, thanks to a great God and a lot of coupons.
** I am the new hostess of Frugal Fridays, having the baton passed to me recently from my friend Crystal. It's been awesome to have so many wise people come visit and share their creative ideas for saving money.
** I pride myself in that I can make a birthday cake in any theme – even sausages and scrambled eggs. I even wrote a book about it.
** I'm also the mother of six children under twelve, so I write about life with a big crew and all the management "opportunities" that come with that. Life is never boring!
** I also know the secret to losing 20 pounds in 2 minutes.
If you think you might want to join me on this road to joyful motherhood, don't forget to Subscribe. You can also follow me on twitter.