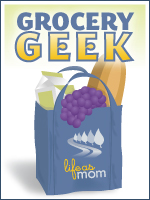 So far this month, I've not done a ton of grocery shopping. For which I'm kind of thankful. It can be exhausting sometimes.
I can think of four stops in the last two weeks. Is that a lot? I'm not sure. Maybe it is.
But for me, it's downsizing since some weeks I make four stops in a day, trying to cherry pick the good deals. Gas is too expensive for that, so I've become a little more selective.
Costco
Right near payday the girls and I made this big stock-up trip to Costco. I did some homework after you all raved about the Executive membership. Believe me, the principal of saying NO since I'd been hassled so much really bothered me. But, after finding out that we will probably get back about $100 at the end of the year, my husband said I was letting my pride get in the way of common sense.
I had to laugh when the salesman at Costco started to hassle me about getting an American Express card after he saw he couldn't sell me an upgrade. Will they never stop? Quite honestly, it's making me hate Costco. Not sure if I want to go back.
Is that my pride?
Anyway, here's what the girls and I picked up: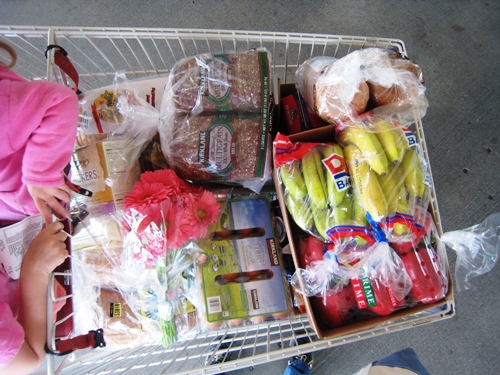 Organic eggs, bread, bagels, bananas, peppers, crackers, milk, cheese, cream, frozen green beans, and a few other staples. Costco is my first line of defense — when I'm not mad at them — to buying staples for cheap.
Total spent: $200
Albertsons
Another day I cruised by Albertsons to take advantage of this cereal deal. Buy 3 Kellogg's cereal, get a free gallon of milk. You could get up to three gallons of milk in a transaction. And since I had heard about a Kellogg's gas rebate, I bought 10 boxes. After coupons, free milk, free M&Ms (part of one of my coupons) and the gas rebate, I got the cereal, milk, and M&Ms for free. Or at least that is one way of looking at it.
But, since cereal is a comfort food around here and since hubs and the girls have been sick, thus needing comfort, the cereal has gone quickly. I had planned to hide it, but the kids — and hubs — were enjoying it so much, I just gave in. Since it was "free," I decided to just let it be a wash. But, it's not something I'll be making a habit of. We go through too much milk when we have cereal in the house!
I also found lots of bread marked down for $0.99 and some meat marked down as well.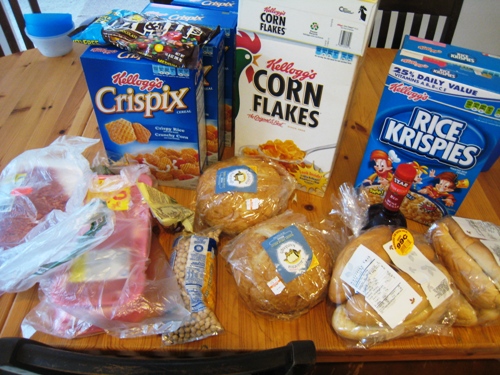 I went back a few days later when there was room in the fridge and cashed in the milk coupons and got some canned veg, flour, and cornmeal.
I tend to go to grocery stores for their loss leaders, but not much else, unless I'm trying to avoid an extra stop.
Total spent: $36, after coupons and rebates
Walmart
Walmart is my final stop to pick up the things that we "need" but aren't on sale elsewhere. While there are lots of ways that Walmart can suck you in, if you stick to the basics, you can do really well. Mandi had some great tips earlier this week to make the most of shopping at Walmart.
Since I'm doing a lot of recipe development, I am finding that at least once a month, I need to cruise through Walmart to buy ingredients that I might want to have on hand for The Cookbook.
Total spent: $50
So, the bad news is that I've spent almost half my budget for the month, but the good news is that there isn't anything I "have to buy" except dairy and fresh produce. If I play my cards right, we should be just fine.
Different Ways to Shop
Some people like diversifying their shopping trips to save money. Others like to save time by just going to one place. Others still make quality and freshness a priority and prefer specialty stores and farmer's markets.
Whatever your preference, you can still eat well and spend less.

This month I'm collaborating with a vast array of bloggers who all shop in different ways. Some love coupons, some don't mess with them. Check out this week's posts to gain knowledge to reduce your shopping expenses and to eat well:
How do YOU like to shop?