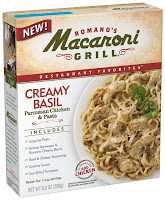 A while ago, I stocked up on Macaroni Grill dinner kits. They're kind of an upscale Hamburger Helper, definitely NOT what I would normally throw in my cart. Remember, I'm a food snob.
But, you know how it is. I had all these great coupons. And Albertsons had a really good sale. They were $.40/box, for Heaven's Sake!
So I bought nine boxes.
Yeah, that's something I never do. Overbuy. Never.
Anyway, now that I had all these boxes of pasta and sauce mix, I started to think outside the box. Literally. And I realized that there is more to these dinner kits than just following the directions. You can do so much more than the simple "just add chicken" that they direct.
Remember, I'm a food snob.
— Use Italian sausage instead of chicken. This works great in the Garlic-Tomato version. I boiled the sausage until the water in the pan evaporated, browned it lightly, sliced it and added it as I would have chicken. Ground beef would also go nicely in this sauce.
— Make it without any meat. We tried the Alfredo kit this way and it made a TON of Alfredo sauce. Toss with extra pasta.
— Use the Alfredo sauce as a bechamel for lasagna. This copycat lasagna recipe (which is very good, by the way) calls for a white sauce. Mac Grill's sauce would be an easy substitution.
— Consider other pastas. Contrary to the packaging, there is not enough pasta in these babies for five servings. At least not the way my family eats pasta. So, I combine like pastas from several boxes for one night's dinner and then prepare a pound of other pasta, like rigatoni or farfalle, from my pantry to go with another box of sauce for a different night.
— Make a roast or chicken. The Garlic-Tomato sauce and seasonings would go well in a crockpot pot roast or chicken cacciatore. Forget the pasta. Serve with polenta or mashed potatoes.
Remember, I'm a food snob.
For more creative ideas of how people make things "work for them," visit Rocks in My Dryer every Wednesday.