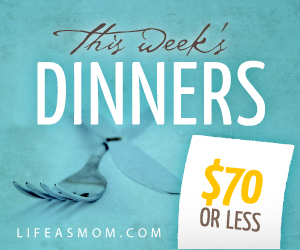 Last month I introduced a new resource here on Life as MOM: This Week's Dinners for $70 or Less. It's a weeklong meal plan that not only watches its dollars and cents, but also makes sure you can prep ahead or on the spot easily and quickly throughout the week.
Each meal plan feeds four people for $70 a week for seven meals. The plans can be shopped at Trader Joe's as well as any regular grocery store, including Walmarts and Targets that have groceries.
We all want to eat better and enjoy home cooked meals with our families. One of the big take-aways I had from reading Salt, Sugar, Fat was that many families are stuck as to how to do this and still stay in the black. I getcha! Oh how I getcha.
Dinners for $70 or Less
So, this meal planning feature is an act of love. I want you to be able to eat good meals with your family! This is the best I can do next to coming to your house and physically helping you pull it off.
Though that would be incredibly fun, wouldn't it?
Here's what readers have said about the meal plans: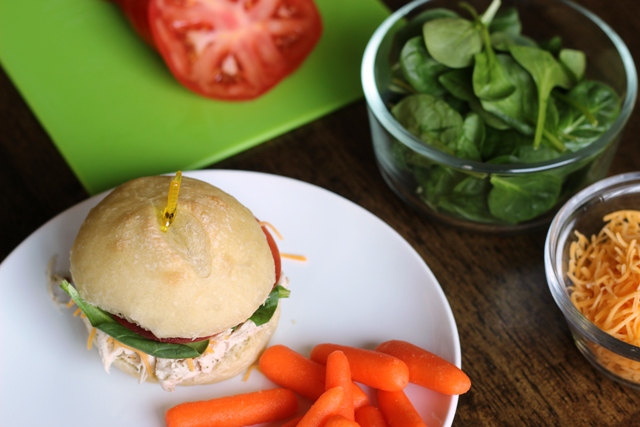 From Rachel via email: I was able to come in under budget (probably due to having some items on hand) and the prep on Sunday afternoon was so painless!
I LOVE the spice mix – I could eat the shredded chicken on my salad every day! I'm not sure I've ever been this excited about a new recipe (can't lie, I thought of packaging it up for Christmas presents). I often roast a chicken on Saturday or Sunday for the leftovers and broth so I just planned the meals around that and it's going great.
My 3 year old loved helping shred chicken and roll the buns (that word made her laugh hysterically for some reason). I also got her to prep some of the greens and mix the dressing – her first meal helping with every item served!
Having each day planned and all the prep work itemized has been such a blessing – it has subtracted a huge burden from my week and returned joy to a task I used to love. I wish I could offer something more practical, but the plan was so easy to use and the recipes have been perfect so far –  I can't wait to try the next plan (ooh, random idea, maybe because it's actually "warm"  here today, maybe a garden/veggie plan for the summer heat when I don't want to turn on my oven?)! Thank you thank you thank you. — Rachel
From Heidi: I just had to come back and comment on how EASY it was to take this list to Trader Joe's and be DONE! 

 I did buy chicken breasts at Albertsons (because they were on sale), but other than that I just bought from the list (and picked up extra since we are feeding 7).
I'm also seeing that these meals can be adapted for my husband who has decided that he wants to go back to the Whole 30 way of eating. At least for this week, I won't have to make two separate meals! Thanks again!

Tell me whatcha want.
The meal plans take a little extra time to plan, test, and write up, but they are completely free to you. Just print and go.
The plans are slow coming at the moment since I've got a big writing project on my plate. But, I also want to take careful time planning and tweaking to make sure the format is just right.
So far I've made these plans "shoppable at Trader Joe's". Trader Joe's doesn't have everything a regular grocery store has. You can still shop these plans at any regular grocery store. Some readers are telling me that they can find everything at Aldi, too — another store that doesn't always have "everything".
I want feedback from you as to the type of meals you'd like to see included. So, here's your chance to describe your typical week, your dream week, whatever comes to mind in terms of home cooked meals to feed your family.
I'll be developing future plans to help us all eat better and spend less, so you have to tell me what that looks like for you.
What kind of proteins do you prefer?
What foods will your kids readily eat?
What kinds of appliances do you have at your disposal?
See you in the comments!
What kind of meal plans would you like to see?
Related: