Disneyland Holidaze
As an Amazon Associate I earn from qualifying purchases. For more details, please see our disclosure policy.
Disneyland is one of my favorite places in the world. I realized that on our recent day at "the happiest place on Earth." Even though I've only been four times in the last 17 years, I have wonderful memories of Disneyland.
We had such a great time as a family when we went in May, that we decided we would go again in the Fall. We planned it so that we could go during one of the slowest weeks of the year, yet still be able to enjoy the Holiday accents that Disneyland features in November and December.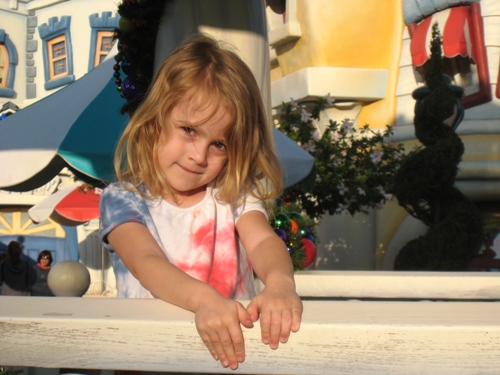 During late Fall/early Winter, the Disneyland crew decorates the park with holiday decorations. There are special foods like tamales and gingerbread beignets that are only available at this time. A special fireworks show is offered every night as well as a Holiday parade, special Christmas light shows, and snow!
The weather was a balmy 70 degrees, so it was a little hard to imagine it as very Christmas-y, but the park was beautiful, nonetheless.
And I learned a few things on this second trip to Disneyland as a MOM.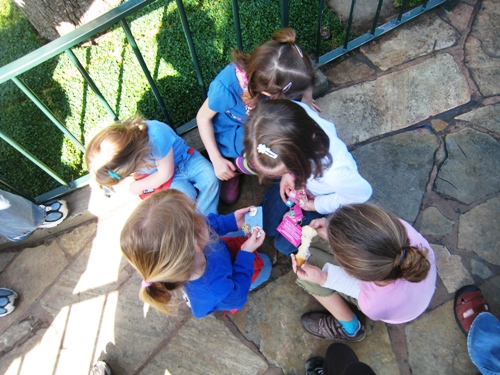 Little girls will flock together.
My two girls are on the left in the blue shirts. They did not know the other three girls, but while we stood in line to meet TinkerBell, these five girls flocked together to show off their Disneyland pins. The other three girls were much older than mine, but they welcomed them into the fold.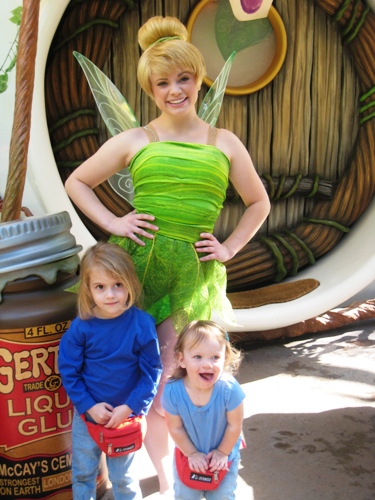 Character lines are not worth the wait.
I'm sorry. Maybe your children have wonderful memories of waiting in line to meet a princess or TinkerBell, but I was stunned that we waited over an hour for a five minute visit with a fairy. Since we waited maybe 10 minutes to meet Pooh and Tigger back in May, I figured on a slow day, we'd get to meet Tink in short order. Not so. The boys took off on rides with FishPapa while the girls and I waited. And waited. And waited.
Perhaps my girls will look back on this day fondly, but for now, I just say, "Been there, done that."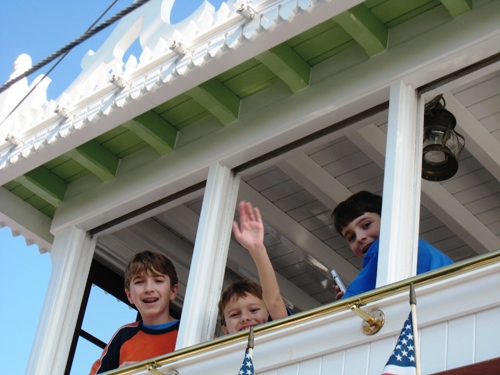 Ask to ride in the WheelHouse of the Mark Twain Riverboat.
Thanks to The 3 Disneyland Moms I found out that you can ride in the wheelhouse of the Mark Twain Riverboat. Four guests are allowed to ride up top, ride the bell, blow the whistle, and otherwise pretend to navigate the river steamboat. My brother and my three bigger boys had the chance to do this. So fun!
Ask next time that you're at Disneyland to see if anyone has "claimed" the wheelhouse for the next ride.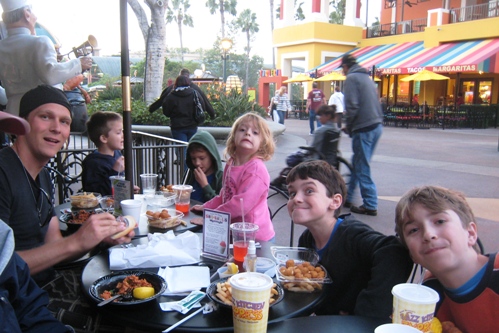 Downtown Disney is the best game in town for Good Cheap Eats.
As per our "new" family tradition, we hop the monorail to Downtown Disney if we're going to purchase a meal while at the park. Since this shopping district is open to the public, the prices are "normal." Check out my review of Ralph Brennan's Jazz Kitchen Express for more details on some good cheap eats – Disneyland style.
Taking an uncle (or aunt) is key.
Last time my sister was a wonderful help to us at Disneyland. Since she couldn't come this time, my brother met us at the park and was a much appreciated third pair of adult eyes.
He is closer in age to FishBoy13 than he is to me, so the boys had a fantastic time with him. In fact, for a good part of the day, he took the four boys to "big rides" while FishPapa and I did small stuff with the girls.
OK, the Haunted Mansion with two preschoolers is not "small stuff," nor is it recommended. Just saying.
Having my brother with us was so fun — and definitely earned him the Uncle of the Year award in my kids' eyes.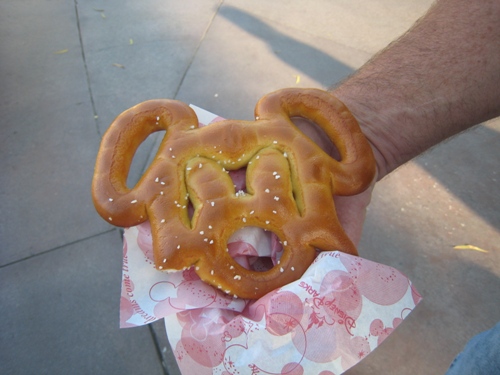 Mickey-shaped Pretzels are a fun treat.
Believe it or not, Disneyland is full of Mickey-shaped treats. Too cute! We haven't bought much to eat at the park, so we haven't explored all the options. But, I've heard that there are ice creams, beignets, and other fun treats all in the shape of Mickey. FishPapa obviously couldn't wait for me to take a picture. We bought one ($3.75) and split it four ways. Not exactly filling, but a fun treat.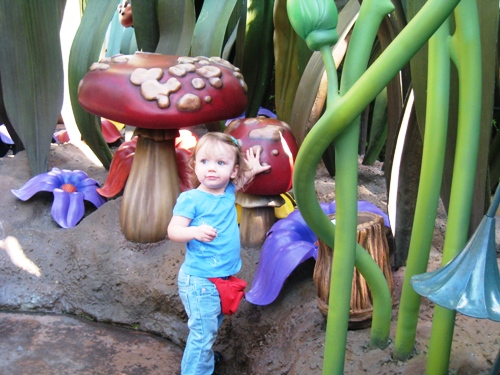 A fanny pack full of treats will save your sanity.
The waist pouches filled with snacks were such a hit last time, that we dug them out to use again. FishBaby FishChick 2 got to use one this time. And use it she did. It only contained organic granola bars and fruit leathers, but she ate from the moment we got there for about two hours nonstop! And I think she still ate her lunch when we ate our picnic.
The bigger kids loved having their snacks on their person and nobody bugged his parents for something to eat.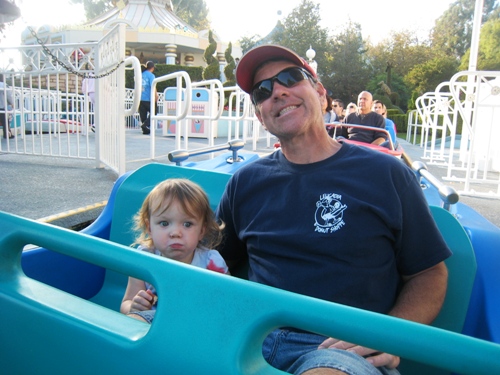 A patient husband is priceless.
My husband does not have the same infatuation with the Magic Kingdom that I do. But, he bravely set forth with six kids and a hyper wife. He is one in a million. A patient husband is a must-have at Disneyland.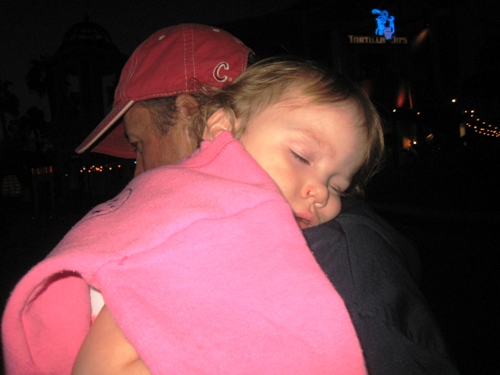 Toddlers will nap eventually.
This girl took her first "nap" at 8 am on our way to the park — and then she didn't stop until night fall. In fact, she was the busiest, wildest girl I've ever seen. Might have been all those granola bars.
Despite riding in the stroller with plenty of opportunity to snooze between rides, she never took advantage of it. After dinner, she did fall asleep as if someone flipped a switch and turned her off. It was amazing. And she's getting heavy!
Naps on the go are better than not at all.
What lessons have YOU learned at amusement parks?
Disclosure: I entered Disneyland via a complimentary press pass. However, I was not required to post about my visit, nor was I compensated to print positive remarks. It truly is one of my happiest places on Earth.