Note from editor: Please remember that since this recipe contains aspirin, it is not an edible mask, despite the presence of yogurt and honey. Neither is it safe for children to play with, and some data suggests pregnant women should avoid its topical use. Please take care how and where you store your aspirin.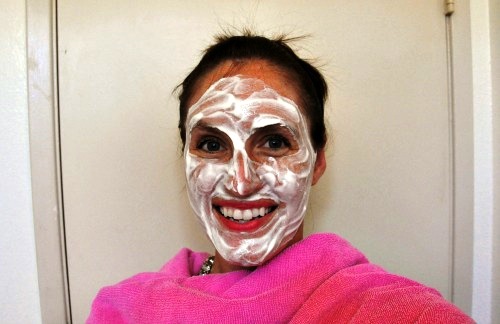 The following post is written by Life as MOM contributor, Rena:
When I was younger, I was under the belief that acne was a teenage malady. Now that I'm in my thirties, I realize I was wrong. To attack annoying pimples and save on cash, I make my own facial. This facial is super easy and cheap and leaves my skin feeling super soft and rejuvenated.
There are only three ingredients: yogurt, uncoated aspirins and honey. The yogurt is full of lactic acid which is proven to stimulate collagen production, refine pores and exfoliate skin sloughing away fine lines. The honey works to retain water and keep skin moisturized. Aspirin contains salicylic acid which is a common ingredient used to clean out pores and exfoliate skin.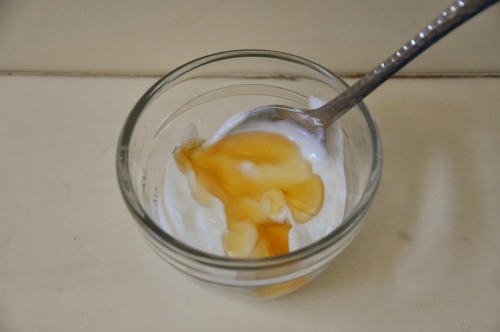 ***If you have an aspirin allergy or are pregnant, do not attempt this facial, and please keep it away from children.***
First crush the five aspirins with the back of a spoon in a small mixing bowl.
Next add 2-3 tablespoons yogurt and a dollop of honey on top. Stir altogether and let sit for a minute or two to let the aspirin dissolve.
With your fingers, rub gently onto your face. You may want to wrap your self with a towel to keep any yogurt mask from dripping on your clothes. If you have any leftover once your face is covered, go ahead and give a facial to your sister, friend or even your husband if he'll oblige you. Let the mask sit on your face for 10-20 minutes.
Wash off with warm water and moisturize your skin with your daily sunscreen or night cream. Feel free to repeat two times a week to fight off any unsightly blemishes. And enjoy your clean skin!
(If you don't have time to make your own, check out my favorite over-the-counter facial.)
Got a favorite DIY beauty trick?
Rena, aka "the girl with the smile", is an optimistic style blogger in San Diego. Learning about fashion through trial & error (high school years were pretty awkward), she loves fashion and the ability to create a look and boost self-confidence through clothing. Since Rena lives with all men (husband and two sons), she needed an outlet for her fashion knowledge, so she started the blog The Girl with the Smile.