DIY on a Dime: Be Kind to Hands and Feet Kit
As an Amazon Associate I earn from qualifying purchases. For more details, please see our disclosure policy.
Give hands and feet some tender-loving care with this great manicure/pedicure basket.
I think that it's important to pamper our bodies. Very few of us actually sit around all day watching TV and eating bonbons. I certainly don't know anyone who does.
Life is full of hard work. Sometimes it's the little things that make a big difference. My mother-in-law was one of the hardest workers I ever met. She raised three boys on her own with very little funds, taking work on construction sites doing site clean-up to make ends meet.
During the years I knew her, she always made the time to give care and attention to her hands and feet. Having a pedicure or a manicure is an amazingly relaxing way to enjoy a little pampering.
Your typical gift basket it going to be pretty pricey, but you can assemble one of your own quite easily and economically. Here's how to make a manicure/pedicure basket to give as a gift.
You'll need the following supplies:
lotion
bath puff
nail tools, like nail brush, clippers, and files
nail polish remover
fun colored nail polish
candle
Most of these items (or the materials to make them) are available at Walmart. You can find pedicure socks on Amazon. Don't know about pedicure socks? They're socks without toes. Wear these so your feet can stay warm without jacking up the toe nail polish.
See?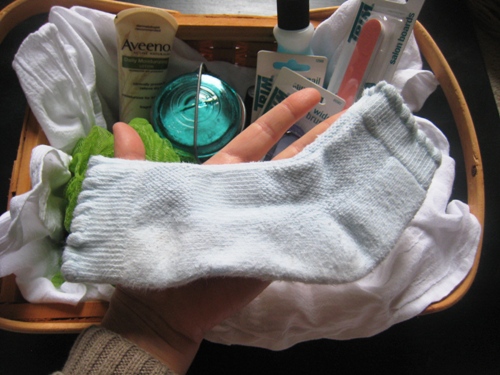 Depending on the items you choose, you can create a fun basket starting at $5 or $10. The pedicure socks will take it up in price, but they are pretty cool, are they not?
Assemble all the items in a fun basket to give to a friend. That was easy!
DIY on a Dime
This is part of the DIY on a Dime: Great Gifts series. For more easy and frugal gift ideas, check out the list.