DIY on a Dime: Printable Gift Coupons
As an Amazon Associate I earn from qualifying purchases. For more details, please see our disclosure policy.
Looking for that last-minute gift idea? Well, this would be it: free printable gift coupons.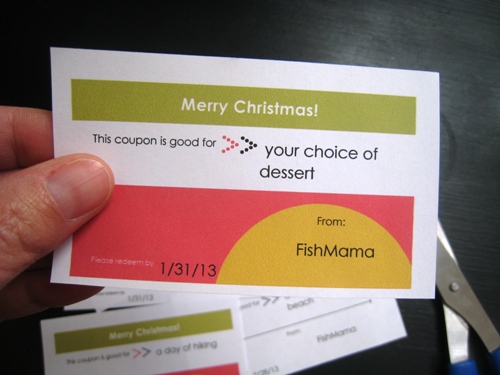 If you've not done your Christmas shopping yet, you may be starting to panic. Don't. Just fall back on that good old standby: the coupon book.
You probably made these when you were a kid. Now's the time to bring back the trend.
Even if you already bought some presents, this is a good gift to add to the mix. Plan more experiences than presents this year! One way to do that is to create custom coupons that can be redeemed for game nights, back rubs, walks in the park, whatever you and your loved ones like to do together.
I've created two coupon pages that you can print, clip, and give as gifts and stocking stuffers. There are fillable fields and the "from" fields will auto-populate. Just type it in once and all the coupons will fill.
You can print the colored version or download the black and white version that you can later embellish with stickers, drawings, and doodles. The black and white version is a great base for kids to create their own custom coupon packs for FREE to give as gifts to friends and family.
Help your kids give gifts to friends and family with these free printables. Or send a few through the printer for you to give to the people you love. Just be sure you're available to redeem them when the time comes.
DIY on a Dime
This is part of the DIY on a Dime: Great Gifts series. For more easy and frugal gift ideas, check out the list.