DIY on a Dime: Printable "Love Does" Banner
As an Amazon Associate I earn from qualifying purchases. For more details, please see our disclosure policy.
Print and string together this easy Valentine garland to remind yourself that Love Does.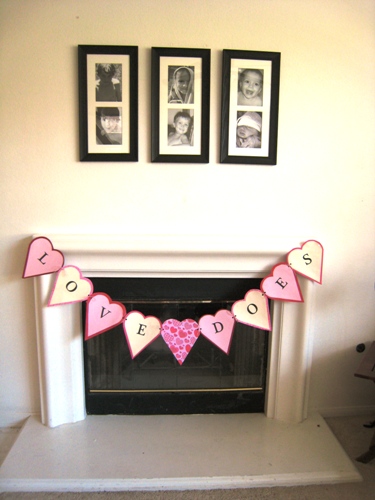 Last year one of the most inspiring books I read was Love Does by Bob Goff. It's full of inspiring stories of how God works in people's lives in general and in the author's life in the specific. It's full of whimsy and a dare to be different.
Of course, once I come down from the mountain, I meet real life which involves piles of laundry and dirty dishes. But, you know what?
Love does.
And part of loving my family is taking care of our home and making sure certain things get done. Even if I'm not the one doing them, orchestrating it all is part of loving them.
Inspired by my younger sister's latest mantel project, I decided to make some mantel words of my own. I am not as patient as Janel, so instead of creating the beautiful stand-up letters she crafted, I went for a simpler paper craft. My girls were thrilled to watch it take shape.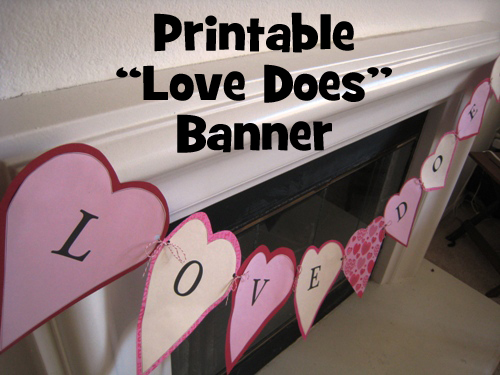 You can make this simple Printable "Love Does" Banner yourself. You just need some copy paper, glue stick, colored paper, and string or twine. Super easy and pretty cute if I do say so myself.
Even if you are not big on decor — I am not — young children love, love, LOVE, holiday decorations. So, expect your kids to like this. Feel free to include them in the crafting.
You'll need the following supplies:
copy paper
colored or designed scrapbook paper
glue stick
scissors
string or baker's twine or brads
hole puncher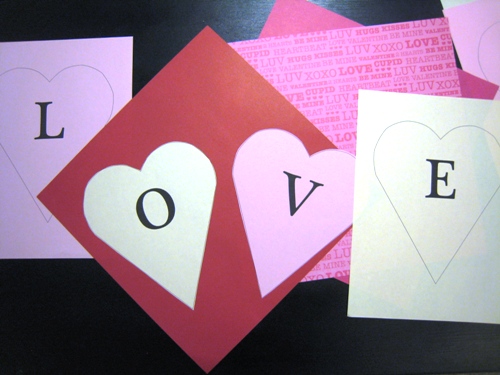 How to assemble a "love does" banner:
Print the eight letters out onto copy paper. If you want to use more than one color, alternate the colors in the printer feed tray.
Cut out the hearts along the lines.
Glue each heart onto colored paper. Cut out each one, leaving a larger border of colored paper around the outsides.
Trace one of your larger hearts onto a piece of colored paper to serve as the space between the two words.
Punch a hole on the side of each heart. String twine through the holes of two hearts to tie them together. Alternatively, you could use brass brads instead.
Hang your banner.
This is a super simple and economical way to add a little Valentine flair to your home.

DIY on a Dime
This is part of the DIY on a Dime: Valentine's Day. For more easy and frugal gift ideas, check out the list.