DIY on a Dime: Rice-Filled Heating Pads
As an Amazon Associate I earn from qualifying purchases. For more details, please see our disclosure policy.
Bless your kids with cute and cuddly cozies to keep them warm this winter. Create a charming and practical gift out of fabric scraps and a pantry staple, thanks to this tutorial from Anne of Modern Mrs. Darcy.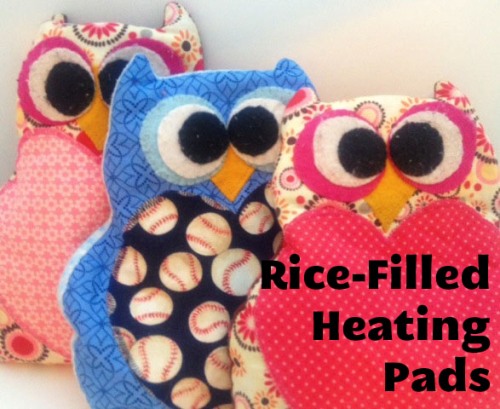 When I saw these adorable rice-filled heating pads on Pinterest last year, I knew I had to try them. They're simple to make, use up lots of fabric scraps, and are truly one-of-a-kind. Last year, I gave my 4 kids each a personalized owl in their stocking, and they've used them just about every night since.
I made my heating pads in the shape of owls. Aren't they cute? You could make these in any shape you choose: circle, square, heart, rectangle, and you could piece your fabric in any design you'd like to delight your recipient. Use up your scraps to save more money and reduce waste.
Consider this tutorial a leaping off point. 
What you need to make a rice-filled heating pad:
A pattern: draft your own or download this one from Etsy for $5
Fabric scraps for the body
Felt scraps for the owl's face
Fusible interfacing or fleece
Sewing machine, needle, thread
Rice (DO NOT use Minute Rice)
How to make an owl rice heating pad:
Cut your pieces.
Fuse the interfacing/fleece to the underside of the front piece.
Use a zigzag stitch on the machine to sew the heart piece to the owl's body.
Next, lay out the felt for the owl's face. When satisfied, sew down the felt using a zig-zag stitch on the machine (or sew down the felt by hand, like I did).
Using a zig-zag stitch, sew down the felt pieces.
Pin right sides together, and sew the owl front to owl back (like you were making a pillow, leaving a 3-inch opening.
Turn owl right-side-out.
Fill halfway with rice.
Handsew the opening shut.
To use these heating pads, pop them in the microwave for about a minute so they're nice and toasty. Enjoy!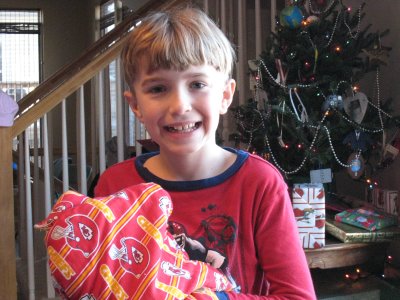 Note from Jessica: Five years ago, I made these for each of our kids. Neither my sewing skills nor my patience are as refined as Anne's, so I made simple rectangles in my kids' preferred fabric designs. They were a hit. And now they all want new ones again this year! These truly are a fabulous gift to give. I filled ours with extra clean feed corn, so if you've got that lying around, you can use that. 😉
– Anne Bogel loves strong coffee, long books, and big ideas. She puts a timely spin on timeless women's issues at her blog Modern Mrs Darcy. Head here to get her free guide Paper Gains: A Guide to Gifting Children Great Books from Modern Mrs Darcy. 
DIY on a Dime
This is part of the DIY on a Dime: Great Gifts series. For more easy and frugal gift ideas, check out the list.