DIY on a Dime: Summer Fun Journal
We are a participant in the Amazon Services LLC Associates Program, an affiliate advertising program designed to provide a means for us to earn fees by linking to Amazon.com and affiliated sites. We participate in other affiliate programs as well. For more details, please see our disclosure policy.
Record memories of the summer with this free printable summer fun journal.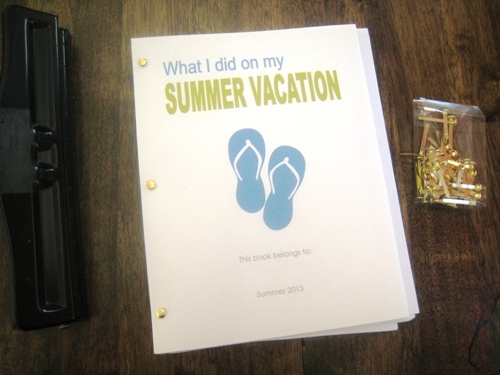 For years I've wanted to give my kids a journal/scrapbook experience over the summer. I had the idea that every day we could record the stuff we did and that at the end of the summer, we'd have a memory book to look back on. I've been percolating this idea for awhile. This year I'm finally dishing it up.
Last weekend I printed off journaling pages for the kids and devised an economical way of binding the pages into a scrapbook.
This isn't your fancy-schmancy acid-free scrapbook, but I'm okay with that. I want each child to have a simple memento of the summer, in his or her own handwriting.
FREE Printable Summer Fun Journal
There are two versions of this free printable: a weekly packet and a daily packet. My twelve-year old wanted to record things by week instead of by day, so he gets the credit for that one.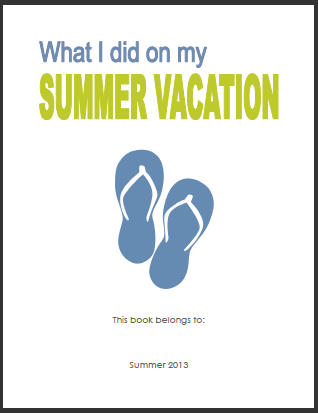 The weekly packet contains 12 journal pages.
The daily packet has 101 journal pages.
Print whichever you prefer. The pdfs are in color. I printed color covers for my kids, but I printed the journal pages in black ink for economy's sake.
You can take these to your local printer and have them spiral bound. That was my original plan —  until I realized that it would cost about five dollars a piece. I decided to go with brass fasteners instead. The cost difference was huge. I bought brass fasteners for 4 cents each. Twelve cents per book versus five bucks? It was an easy choice to make.
Do what works for you. Brass fasteners aren't as nice as a spiral binding, but they'll do the job.
Do YOU have a special way to record summer memories?