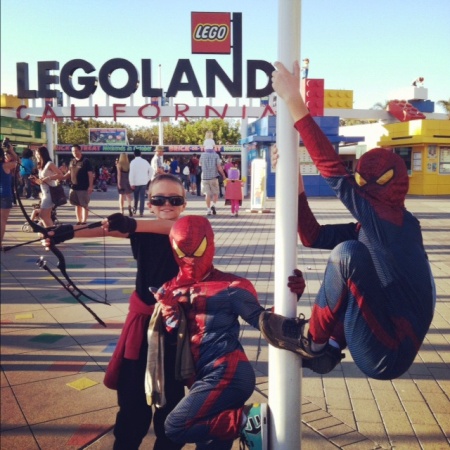 I just got home from taking three kids to Legoland's Brick or Treat Party. These guys, aged 8, 10, and 11, are Legoland's "target audience". They were thrilled with our evening at the park.
I had a blast being escorted by two Spideys and a Hawkeye. (And I was so glad that folks recognized him as Hawkeye. I was a little worried that my homemade Hawkeye costume would be a fail.)
The outing was something totally out of the normal for several reasons:
It was fairly spontaneous. We'd planned to have company this weekend, but those plans got canceled yesterday.
It wasn't a family outing. I only took half my kids. Funny, I know, since half is larger than some families' whole. While we usually do things all together, the event really was best geared for these three.
It was a splurge. We had three free tickets from a special summer promotion, but I still had to by my ticket tonight, albeit half-price, pay for parking, and buy apple fries. Because you have to buy apple fries at Legoland.
That said, it was a great time being with my three tweens and seeing an experience through their eyes. We'd never been to Legoland at night, nor had we been to their Brick or Treat. We didn't get to go on many rides since half the park was closed.
But, doing something unusual was a lot of fun. It was a great opportunity to focus on these guys. I'm a blessed woman.
Doing something unusual is a great way to stop and smell the roses.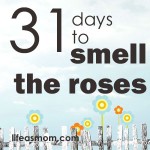 The days are long, but the years are short. I don't want to miss them! For more short and sweet ideas on how to stop and smell the roses, to enjoy the little things in life, check out my 31 Days to Smell the Roses series.
Don't miss a post in this series. Subscribe to 31 Days to Smell the Roses by RSS or email.