Do They Know You Love Your Life?
We are a participant in the Amazon Services LLC Associates Program, an affiliate advertising program designed to provide a means for us to earn fees by linking to Amazon.com and affiliated sites. We participate in other affiliate programs as well. For more details, please see our disclosure policy.
Do your kids know that you love your life, specifically your life with them?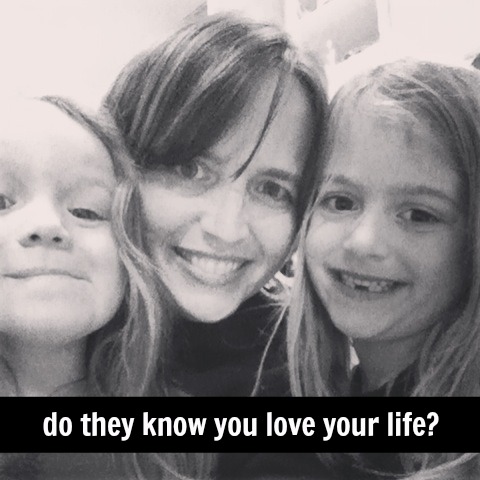 Sometime in the last week my eldest son, almost 17, said, "You always seem sad and depressed these days."
He said this with a little sadness in his own voice. It was just the two of us in the kitchen, early in the morning. It gave me pause. I don't feel sad and depressed. I just feel busy, overwhelmed, weighed down.
For better or worse, I'm in "survival mode" this month. Working on three cookbooks in one year was probably not the best decision I ever made. It somehow "happened". And since I want them to be great books, I've spent a fair amount of time in the kitchen or at the computer.
My cup runneth over in all kinds of good ways, as well as in challenging ones. I'm always thinking of the next thing to do or puzzling out a problem, whether that's cookbook-related, homeschooling, household, parenting, marriage, life.
I'm surviving; thank you, Jesus.
Whether you write cookbooks or have some other weight on you, each of us has periods of survival mode. Kids don't often understand what that looks like.
FishBoy16 and I chatted about it throughout the day. I had a chance to tell him how much I love him and our life together, to reassure him that my seriousness doesn't reflect what he thought it did. Likewise, I was able to tease him when he had a serious visage and ask him if he was feeling sad. He laughed and said no.
It was a good reminder for me to make sure that my outsides reflect my insides — at least when my insides are mostly positive!
It was also a great reminder to show my kids
that I love my life with them.
that I'm glad to have chose this path of spending my days with them.
that I still enjoy having fun.
that I can be light-hearted and joke around even if there's a lot on my plate.
Clearly, I don't have this thing figured out, but I'm so proud that my son felt comfortable to share his observations with me. Here's to lightening the mood around here!
How do YOU make sure your kids know you love your life?
Related: the Love Your Life series