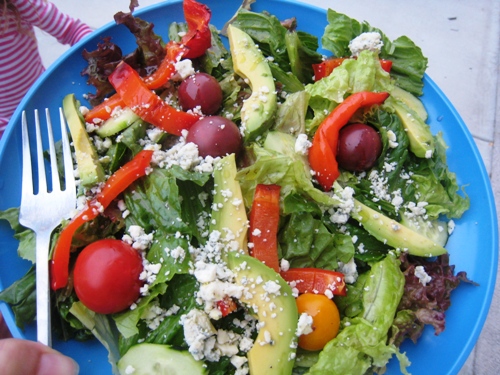 My husband jokes with me about what have come to be known as "beige" meals. You know the ones: grilled chicken, brown rice, and steamed cauliflower. While it's a balanced meal, all things considered, it also lacks color. And for some reason, that makes a difference.
On the other end, we laugh about the gratuitous garnish: the bit of kale, sprig of parsley, or slice of orange that a restaurant adds to the plate as a decorating accent. Though, I have been known to chew on a bit of parsley as a breath freshener after a particularly spicy or garlicky meal, these garnish serve no purpose other than to add color to the plate.
Appeal to all the senses.
While I am certainly no great food stylist or food photographer or gourmet cook, it does matter to me what the plate looks like when I dish things up. I like to serve a pretty plate. In fact, I think if all our senses are being positively stimulated at dinner, we will enjoy it more.
Hop on over to Food Your Way for the rest of the story….