Dream a big dream for the year ahead. What do you want your life to be like?

Today's assignment is to write down a specific vision or goal for the next year.
About 13 or 14 months ago, I wrote down a list of all the things that I wanted my life to contain. I even revisited them midyear. Today, after a year of hard work, it's fun to see some of the things that actually happened.
a beautiful home that's easy to keep tidy and organized
school – reasonably thorough and done by noon, or 2 at the latest
happy children who love books, the great outdoors, and exercise
games and movies that enhance our lives and don't dominate it
fresh air and travel
healthy food and less temptation toward processed crap, etc
game nights and movie nights and quiet nights with books
bonfires and candlelight and conversation and music
date nights and overnighters with my husband
early bedtimes
exercise, a healthy back, no hip pain
red wine and yummy food
money in the bank to pay for our needs and to send kids to college if they want to go
time to talk about big things and small things
simpler finances (selling the rental house, using the envelope system, opening more accounts to keep track of savings, etc)
a car that is easy to drive and park
regular work hours and vacations (I don't want to work all the time.)
While I can't cross off everything, I did see some great things happen in my life over the last year, including traveling to Europe, selling the Blue House, figuring out my hip pain, and working on a healthier diet.
This list is a good list. It encompasses the things that I want to be characteristic of my life going forward. There are still things to tweak and work on, but things are getting closer to my dream. I'm hoping that this year, I'll make a little more progress.
What's your dream life?
Dream a big dream and be sure to write it down. Create actionable steps and then get to work.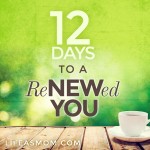 This post is part of a 12-part series, 12 Days to a Renewed You. You can read through the archives here.