Easing Into a Laundry Routine: A Guest Post
We are a participant in the Amazon Services LLC Associates Program, an affiliate advertising program designed to provide a means for us to earn fees by linking to Amazon.com and affiliated sites. We participate in other affiliate programs as well. For more details, please see our disclosure policy.
Mine is a household that generates two tons of laundry virtually overnight. Thankfully, I like laundry. But, it can be difficult to stay on top of it no matter how much I enjoy it. That's where having a routine can really bless you — and the rest of the family. Clean underwear is one of life's bare necessities. Today, Lauren from Mama's Laundry Talk has some great advice for getting into a laundry groove that works for you.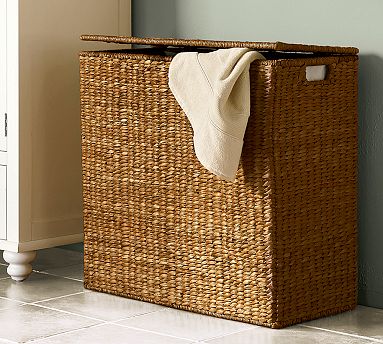 I am asked lots of questions on stain removal and laundry room organization, but the laundry question that comes up the most is:
How do I get into an easy laundry routine?
Whether you are a mom that stays home during the day or one that works outside of the home, there are a few simple things that you can do to create a laundry routine that works for you.
1. Sort dirty laundry as you put it in the laundry hamper.
When you have just one hamper and all dirty clothes are thrown into it, you really have no idea when there is a full load to wash. It's impossible to look at the hamper and determine when there is a full load of whites or towels. Spend a few dollars and buy either a) several laundry baskets or b) a laundry sorter. By automatically sorting your clothes as you place them in the hamper, you can easily see when you have a load that needs to be washed. You'll save time and energy by combining these two laundry steps into one.
2. Have enough clothing for 6-7 days.
It's a good idea to only have about 7 days worth of clothes – your drawers aren't overloaded and you're forced to wash them more often. With a fewer amount of clothes, laundry doesn't have the opportunity to stay piled up somewhere for very long. It either has to be washed or it has to be put away. This idea is especially helpful with children's clothing. My 7-day guide doesn't include my children's Sunday clothes or more special outfits.
3. Keep laundry sorted by person.
Assign a laundry basket and a day of the week to each child/family member. For example, Monday is Sam's wash day. All of his clothes go in the washer at the same time. They are dried, folded and placed back in his basket for him to put away. Clean clothes aren't strewn all over the house since all of Sam's clothes are in the same load. This method helps reduce the stacks of clean clothes just lying around.
4. Write it in your schedule.
This is my best piece of advice. If you keep a to-do list or a calendar, write in how many loads you plan to do that day even if it's only one load. If you use the method as described in #3, write in whose turn is it to have clothes washed. If it is written down on your calendar, you are much more likely to actually do it. When I write down my laundry to-do list, it makes me accountable for its completion.
What are your best tips for creating a laundry routine?
— Lauren Hill is the mama behind Mama's Laundry Talk. Strangely enough, she loves all things laundry and enjoys helping others make their Laundry Lives easier. She is proud to be a wife, mama to 3 fantastic little people and a Child of God.