Cooking a ham for Easter? Consider this FREE printable Easter Week meal plan to help you enjoy the day as well as the leftovers.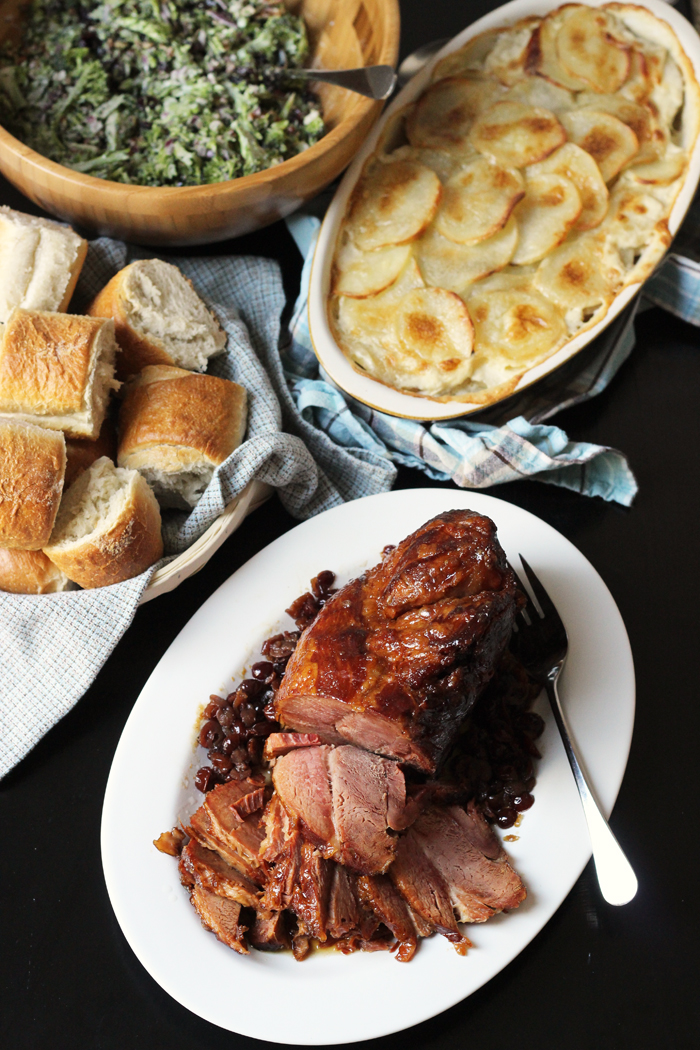 Next weekend is Easter. In the grocery department, that means hams are on sale. And let me tell you, hams are pretty hard to come by when it's NOT a holiday week. I have tried to find half hams in the "off-season" and it was mighty difficult to do.
Lesson: stock up when hams are on sale so that you can enjoy ham whenever you want.
I have one child for whom ham is his love language. Actually I might have more than one child who feels this way. Which is really weird since ham is not FishPapa's favorite. I promise, I didn't plan it that way.
If you're planning on ham for your Easter celebration next week, have I got a deal for you!
This FREE Easter Week meal plan to print and cook features ham. It's a good cheap eat. And the other meals in the plan help you use up some bits of leftovers as well as offset that rich meal with lighter fare. It's a total win in terms of meal planning, grocery shopping, and saving money.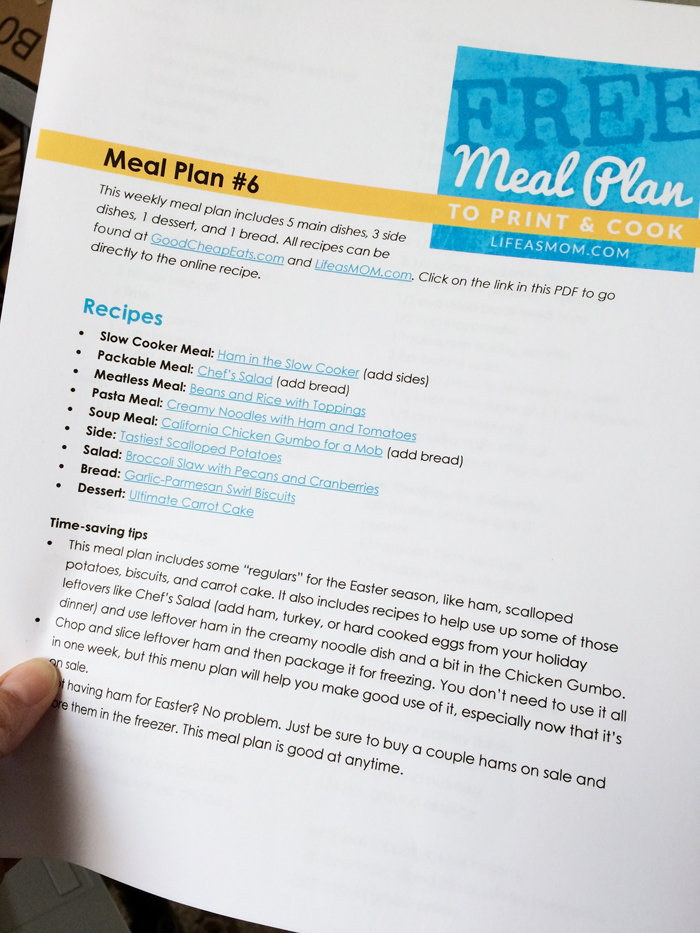 I think every grocery ad has ham featured on sale this week. Like I said, this is the time to buy one — if you like ham, and even if you're not making dinner next Sunday. Buy as many as you can fit in your freezer and enjoy a great price for months to come.
And you can always put this meal plan on repeat come November and December when ham's officially "back on the menu".
When I cook up a big ham, we eat what we like for dinner and then I slice and chop the rest up right away. I package it in meal size portions and freeze those. And yes, even if you freeze your ham when you buy it and then cook it, you can safely refreeze the leftovers. I have covered this in-depthly. Please don't make me repeat myself.
I'm super excited to share this Easter week meal plan with you. It's got some of my favorite recipes that you can enjoy all year long, particularly if you love ham and stock up, like I suggested (blah, blah, blah – don't tune me out like Charlie Brown's teacher!)
If you don't like ham, you'll be pleased to note that the other four dinners don't require ham to make them good. They are a good way to use up ham leftovers if you're a ham fan.
Did I mention that kids love all the recipes involved? Double-triple-quadrule win. Depending on how many kids you have.
An Easter Week Meal Plan to Print & Cook
Here are the recipes featured in this week's meal plant to print and cook. You'll need to print each one out as well as print the meal plan and grocery list. After that, you're good to go. You'll notice that we're following that whole meal planning theme thing. It's a keeper.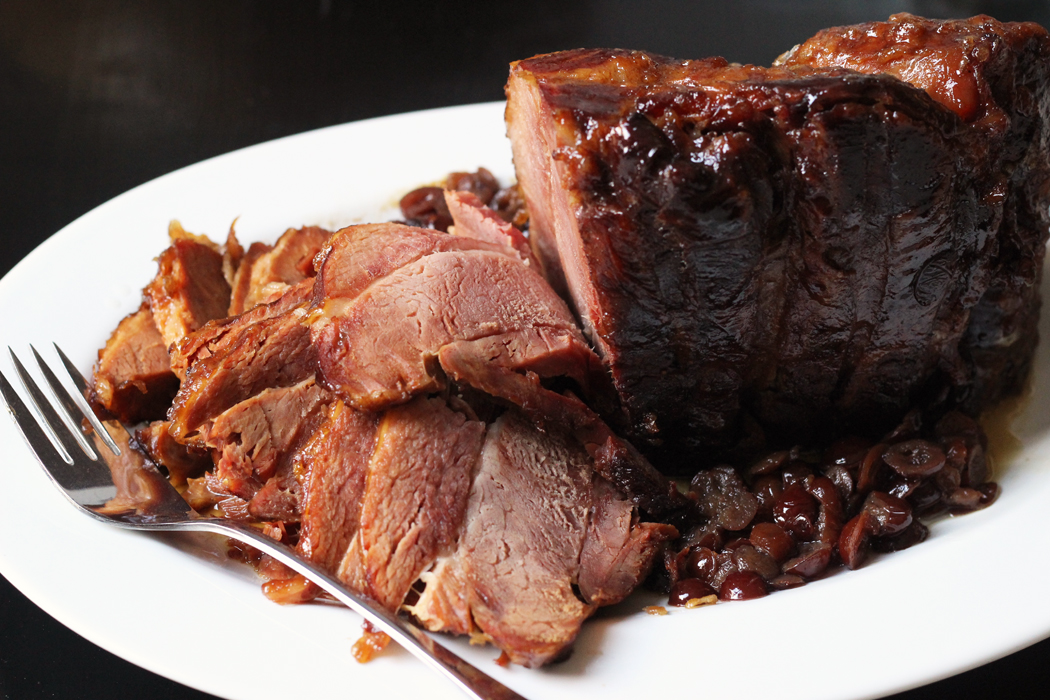 Make a Slow Cooker Ham for your next holiday feast. It's easy. It's delicious. It's a good cheap eat that will make you the hit of the party. I've been making this ham recipe for almost twenty years. I love the carmelization of the juices, cranberries, brown sugar, Dijon, and cloves.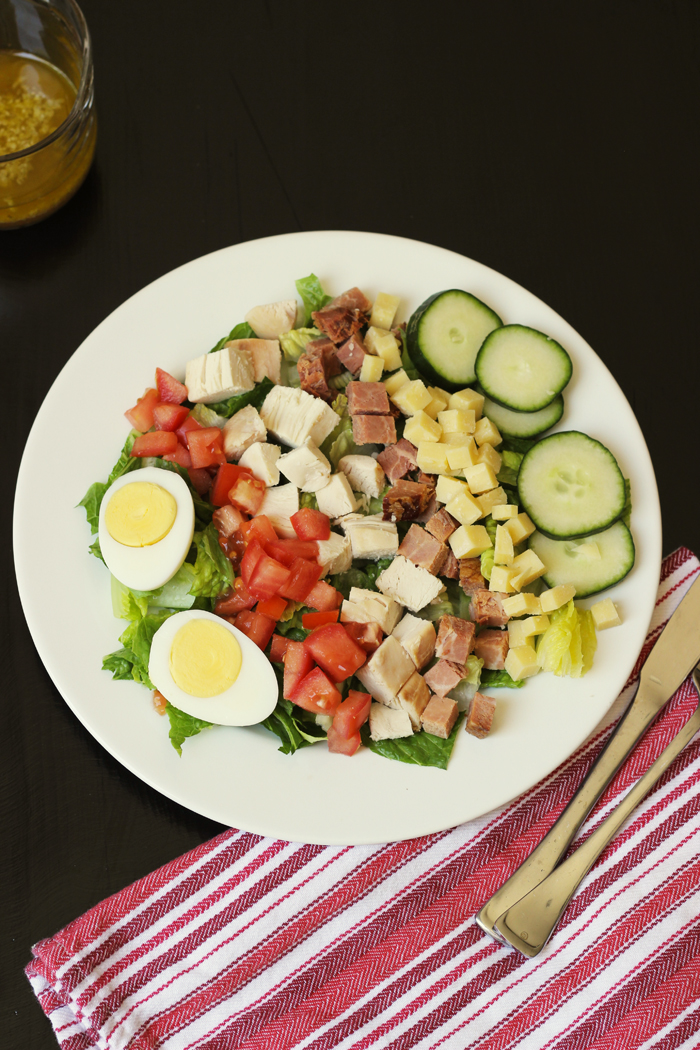 A typical chef's salad boasts hard-boiled eggs, cucumbers, tomatoes, cheese, and meat on a bed of dressed greens. This garlicky anchovy vinaigrette adds some punch to the mix. You can vary which toppings you use to suit what you have on hand.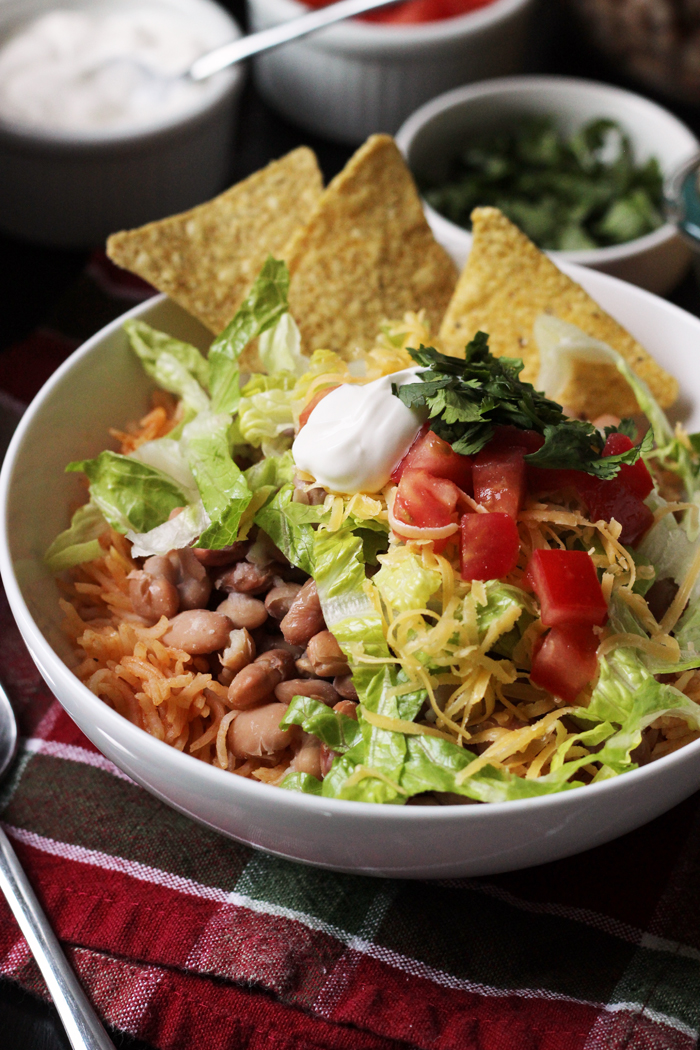 Beans and rice are a good cheap eat, especially when you top them with chips, salsa, and some other goodies. They make a filling meal to help you save money and eat well.
Dinner will come together in a jiffy with just a handful of ingredients. This recipe for Creamy Noodles with Ham and Tomatoes is amazingly easy and delicious!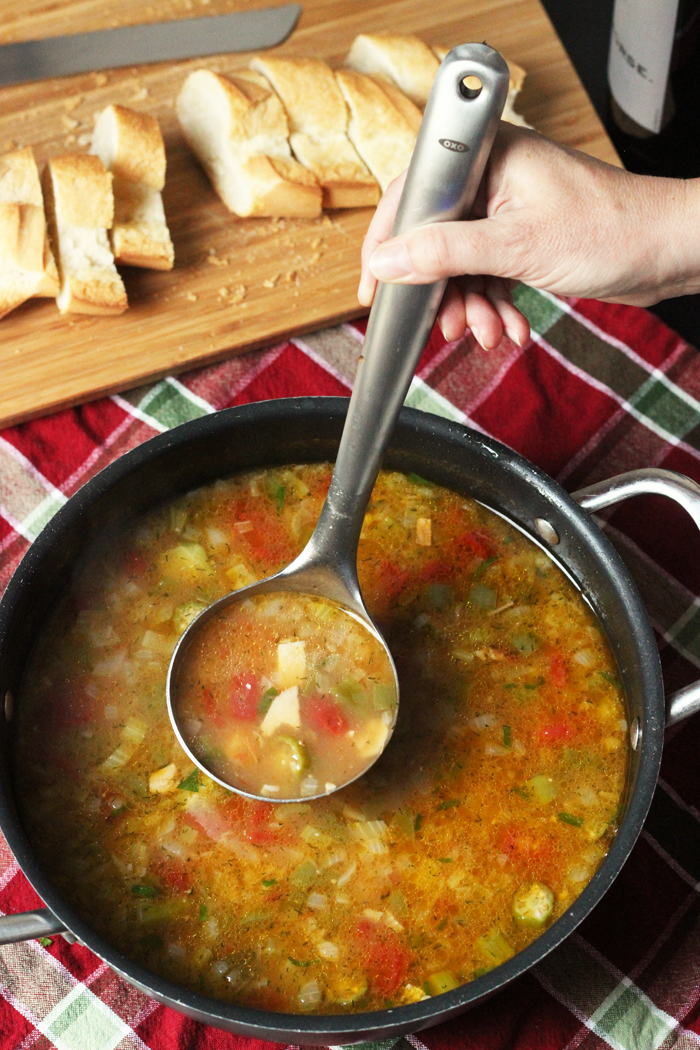 Chicken Gumbo Soup, that childhood favorite from the red-labeled can is now within your reach – homemade, tastier, and better for you!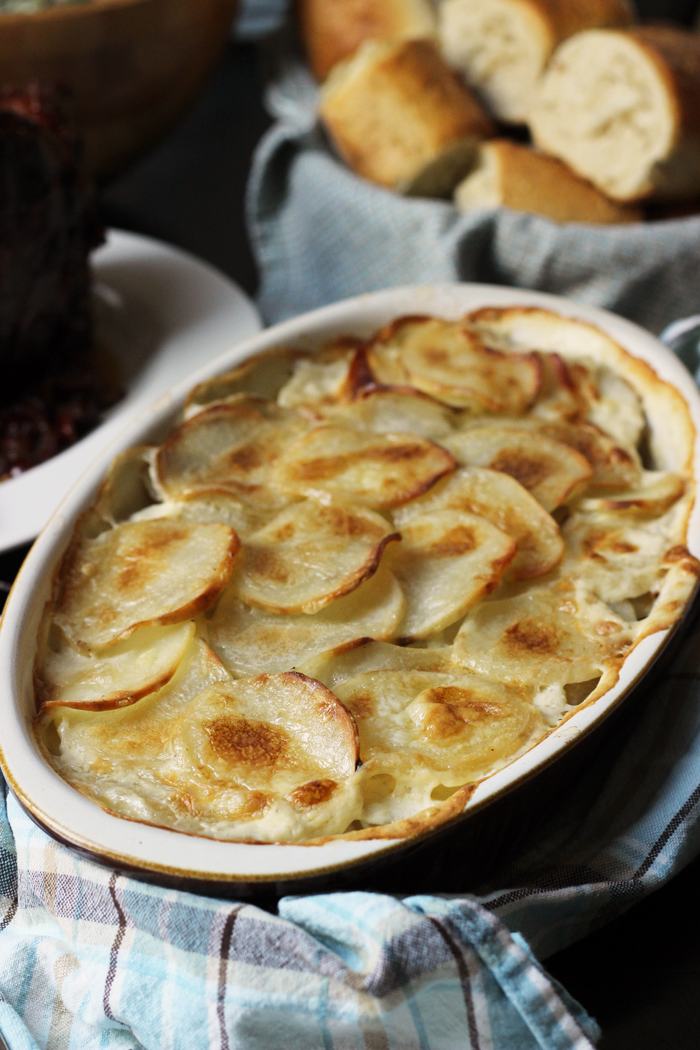 Thinly sliced potatoes nestle in a bath of cream, milk and butter, resulting in the tastiest Scalloped Potatoes on the planet. For reals.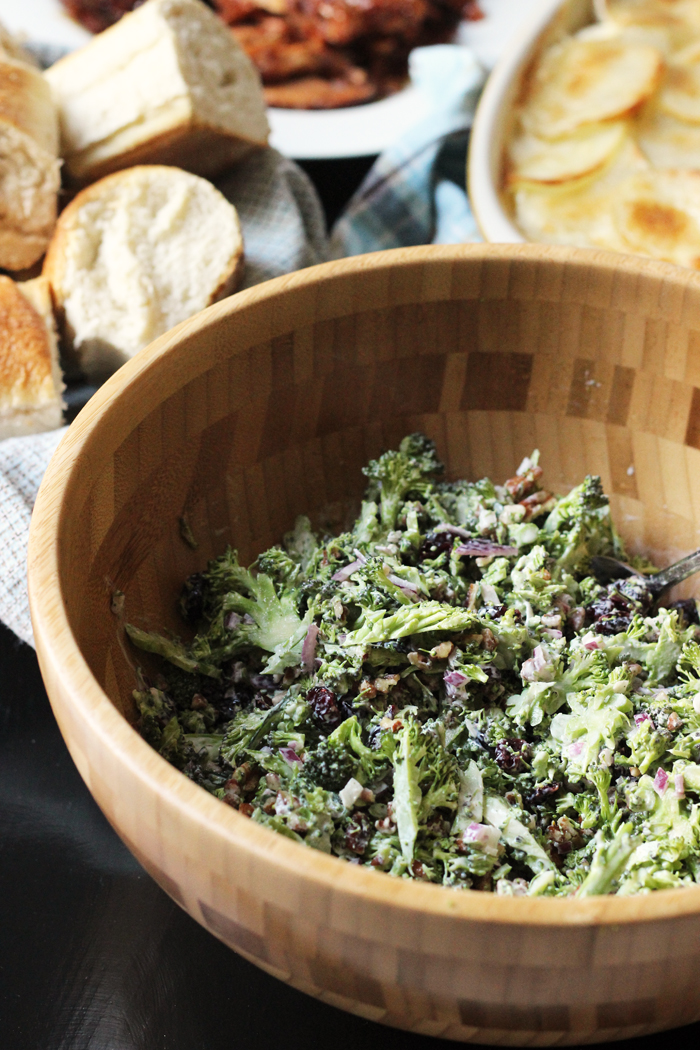 This slightly sweet Broccoli Slaw is full of texture, thanks to pecans, cranberries, and red onions. It makes a delicious side salad.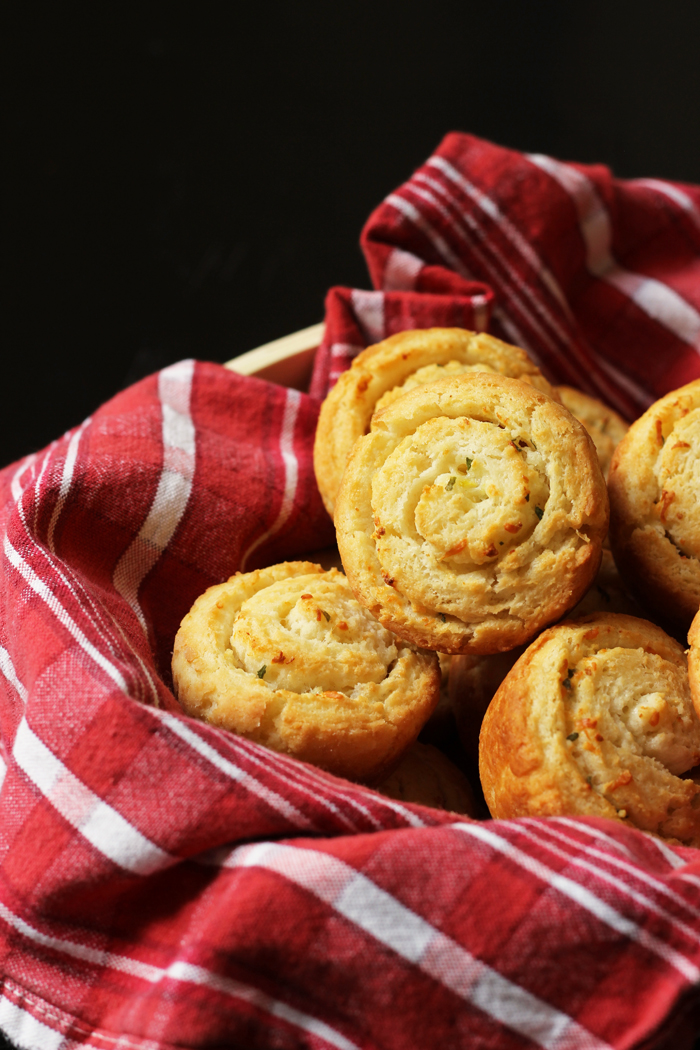 Dress up your bread basket with these simple, but elegant Garlic-Parmesan Swirl Biscuits. Packed with flavor, they are fun to make and great to eat!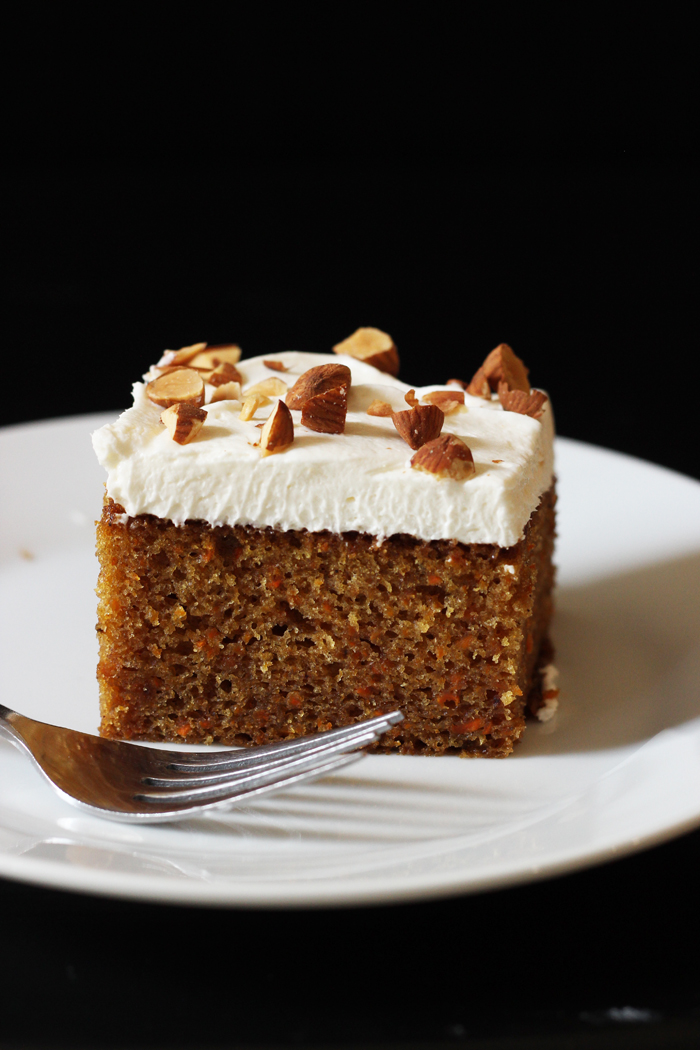 Looking for the Ultimate Carrot Cake? This be it! Soft and tender cake is topped with light and fluffy cream cheese and sprinkled with chopped nuts for a super delicious treat.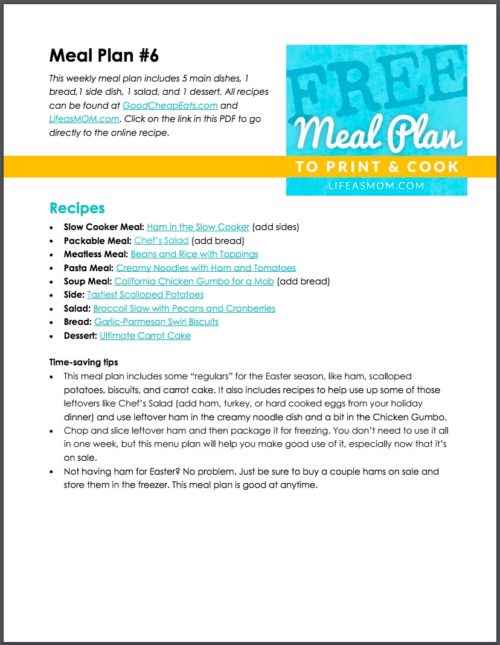 I hope that you love these recipes as much as we do. They're all here together in one Easter week meal plan: 5 main dishes, 1 side dish, 1 side salad, 1 bread, and 1 dessert.
This meal plan includes the recipe list, time saving tricks, and a grocery list. You just need to click, print, shop, and cook. Be sure to let me know how this plan works for you and what you'd like to see in future plans!
Hungry for more free weekly meal plans?
I've got over 50 free plans available for you to choose from. I'm in the process of updating all the recipes and images and will be sharing more plans here in the coming weeks. But, if you can't wait, head here to check them all out.
Originally posted March 29, 2013. Updated April 9, 2017.