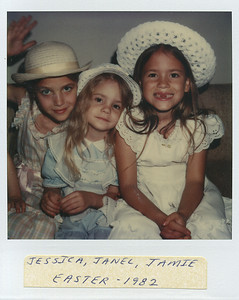 When I was growing up, my mom was the hostess with the mostest. Today I have no idea how she pulled it off. I think she must have not slept too much near special occasions. Not only did she get five kids dressed — in Easter dresses and bonnets — but she also usually hosted a huge meal for family and friends who were orphaned at the holidays. And being the Child Development Expert that she is, she also devised some kind of entertainment for us as well.
I don't think I ever acknowledged how much my mom has taught me about being on the road to joyful motherhood. Thanks, Mom!
Special days like Easter Sunday are wonderful times to gather with family and friends. It is a time for great rejoicing, and one to share with children and make sweet memories. Consider setting up some activity centers wherever you plan to spend Sunday afternoon, so that children have a direction and focus. Not only will it be memorable for them, but it will also (hopefully) keep them out of trouble. These are also great things to do during Spring Break, too.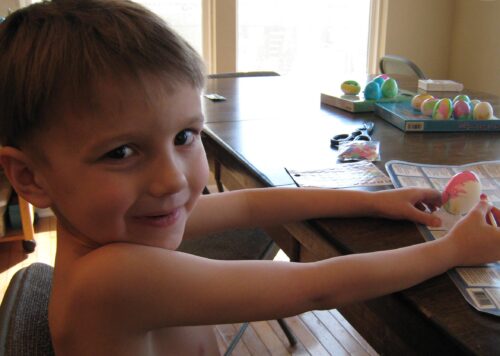 Watch a movie, such as The Jesus Movie for Children
Read about Jesus' last days on Earth
Bake and decorate cookies or cupcakes or make Resurrection Rolls or Empty Tomb Cookies
Hunt for plastic eggs (Nowadays, my mom fills these with money. Is she mother of the year, or what?)
Read themed story books about the Resurrection. It's hard to find Jesus-centered books. These books aren't perfect, but they work for me.
Blow bubbles
Play with playdough
Fly kites
Go on a Ribbon Basket Hunt
Dye and decorate eggs
Provide children with small flower pots, potting soil, and a pony pack of annuals. Talk about new life and what beauty there is in Christ.
What do you enjoy doing with your children at Easter time?