Easter Traditions: What are Yours?
We are a participant in the Amazon Services LLC Associates Program, an affiliate advertising program designed to provide a means for us to earn fees by linking to Amazon.com and affiliated sites. We participate in other affiliate programs as well. For more details, please see our disclosure policy.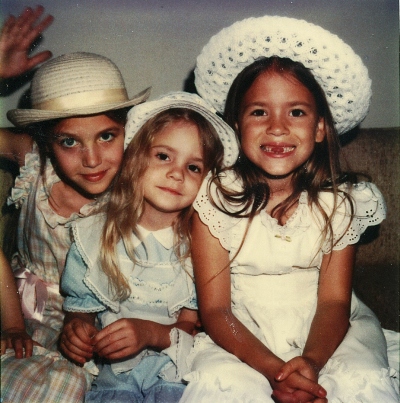 That's me and my two younger sisters, circa 1982. It makes me laugh since it is such a reflection of our personalities then and now. I'm doing something dumb to ruin the picture. (Got busted on that one.) Janel is looking rather laid back and relaxed. Jamie, of course, is picture perfect — except for the tongue sticking through the gap in her teeth.
One of our Easter traditions was to get new dresses, shoes, and apparently hats, on Easter. I don't remember getting hats every year, but it matched the vintage movies that we used to watch on Saturday afternoons and our hopes to be movie stars. Ha!
I do remember that my head was so big at age 10, that we had to buy a hat from the women's section. My mom probably had to pay extra for that, but I was probably really intent on getting my way.
Ah, those were the days….
Traditions bind us to the past and give us hope for the future. They offer stability in an unknown world. They bring us comfort.
What are YOUR special Easter traditions?
Either past or present, share your memories or plans.