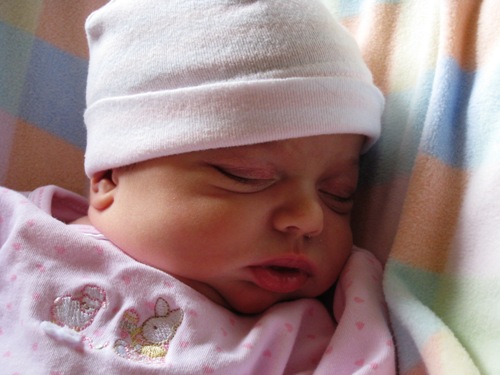 As Lauren mentioned earlier today, moms with young babies will do well to plan ahead and simplify for the holidays. She mentioned some great ways in which she is going to make this Christmas a little more peaceful and a little easier on Mom.
It's important to keep in mind that some ways that are easier for some are not necessarily easier for others. For instance, let's consider feeding. I breastfed all my babies. That worked well for us.
But, I have known many moms for varying reasons for whom exclusive breastfeeding was not a realistic or preferred option. In their lives as MOM, bottle-feeding works for them.
Steribottle can make bottle-feeding easier.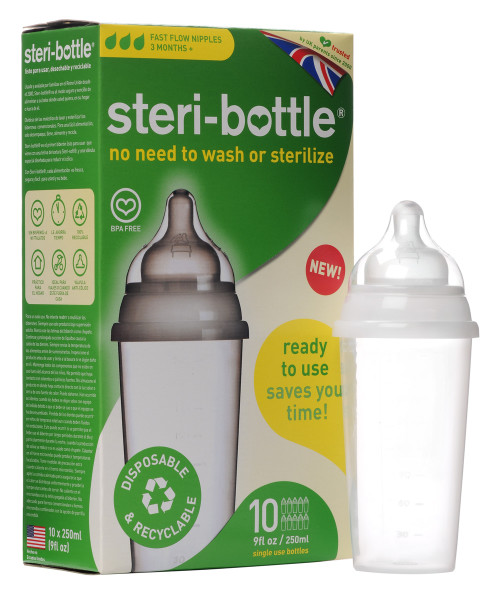 Steribottle has been popular in the United Kingdom since 2000. Now, it's come to the New World.
Here are some of the advantages of this disposable and recyclable baby bottle:

No need to wash or sterilize – just open the box, take out one ready-to-use bottle and nipple, fill, and feed.
Perfect for traveling – when you don't want to take a full kit of bottles and sterilizers with you. And there's no need to carry home half-finished bottles that have been sitting around for hours – once you've done feeding, just dispose or recycle.
Ideal for those 3 a.m. feeds when you don't have any clean bottles and just want another 10-15 minutes of rest. Steribottle helps you feed your child and get back to sleep faster.
Perfect for daycare too because Steri-bottle is a single-use bottle that features a locking cap so you can be sure your baby gets the feed that you've prepared.

Each package comes with complete bottles and nipples that are ready to use, BPA-free and phthalate-free and 100% recyclable.
While I didn't use bottles for my babies, I must confess one of the reasons I resisted bottle-feeding, even part-time, was the hassle washing bottles appeared to be. This appears to me to be a great solution to that dilemma. And in examining the Steribottle product up close, I see a quality bottle and nipple.
I think these could be a great asset for grandparents and daycare providers to keep on hand. If you know you're going to have babies staying with you over the holidays, it couldn't hurt to have a box on hand. Moms who bottle feed may want to keep a pack in their emergency kits as well as in the car for those days when you just don't have the time to mess with washing bottles. And these would make great baby gifts as well.
This week five readers will each win a 10-pack box of Steribottle Ready To Use Baby Bottles.
How to Enter:
There are three ways that you can enter this giveaway. Pick one, pick 'em all.
1. Leave a comment, telling us your favorite baby gift to give.
2. Follow @Steribottle and @FishMama on twitter and tweet about this giveaway. Then come back here and leave a separate comment with your twitter handle, telling me you did so.
3. Subscribe to LifeasMOM in a reader or via email and leave a separate comment, telling me you subscribe.
This giveaway will be open until Sunday night, August 1st at 8 pm, PST. Winners will be chosen at random and notified via email. You have 48 hours from the time I send the email to respond, otherwise I reserve the right to choose another winner.
THIS GIVEAWAY IS NOW CLOSED. WINNERS HAVE BEEN ANNOUNCED.
– Disclosure: Steribottle has provided these bottles for giveaway. I was not compensated to post positive comments. Please see my disclosure policy for more information.