Leftover greens combine with a buttery crust and a filling enhanced by eggs, cream, and feta cheese, to create a delicious easy greens tart.

This week on URS we're talking dairy products. And how timely. I'm currently reading The Dirty Life: A Memoir of Farming, Food, and Love, next month's Booking It selection. I've been fascinated by the author's journey into subsistence farming, including her education in the ways of cows. Seriously. I must be a total farm geek because I am totally into the differences in milk cows and how the flavor of the milk can change, depending on what the cow eats. Fascinating!
So, here we are swapping milk, butter, and cheese recipes. Right on.
The recipe I'm bringing to the table includes all three. I didn't plan it that way. It just happened in a serendipitous fashion.
In fact, this tart came about simply because I wanted to use up the leftover swiss chard and pea tendrils I had sauteed the night before.
Yes, I'm really getting into this fresh produce thing, aren't I?
Anyway, I had a few cups of sauteed greens from the night before. I put them in a pie crust, topped them with feta, and poured a custard of egg and cream over the top. After baking and cooling, this gorgeous tart appeared, perfect for breakfast, lunch, or dinner. It's chock full of good for you vegetables and enriched by a buttery crust, creamy custard and feta cheese. Yum!
You can easily use whatever leftover vegetables you have handy for an easy but elegant savory tart.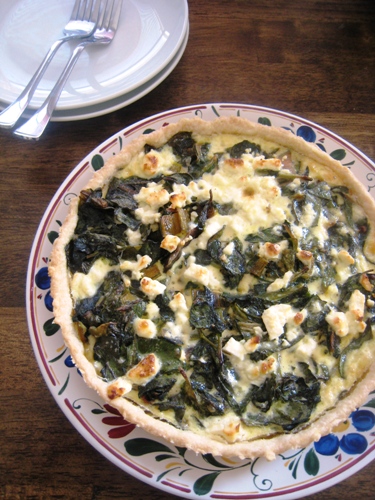 Recipe: Easy Greens Tart with Feta Cheese
Ingredients
1 unbaked pie crust, placed in a tart pan and chilled
2 cups sauteed greens
1/3 cup feta cheese crumbles
2 eggs
2/3 cup heavy cream
salt and freshly ground pepper, to taste
Instructions
Preheat the oven to 375 °
Place the tart pan on a baking sheet to catch any drips. Sprinkle the greens in the pie shell. Sprinkle the feta cheese over the greens.
In a small mixing bowl combine the eggs and cream. Season to taste. Pour the egg mixture over the cheese and greens.
Bake in the oven for 45 minutes or until set.
Serve hot or at room temperature.
Preparation time: 10 minute(s)
Cooking time: 40 minute(s)
Number of servings (yield): 8

URS Guidelines
Remember: Each week at Ultimate Recipe Swap, there is a posted theme. You are welcome to share any recipe that fits the theme and contains a link back to Life as MOM. If you're curious about the upcoming themes, I have a calendar here. Last week was Cabbage, this week is Dairy, next week features Breakfast.
If you have a recipe that fits the theme, please link it. However, things like Beef Strogonaff will be deleted from Chicken week because it doesn't contain chicken. Please keep this meme as helpful to others as we can.
And don't make me the bad guy! 

What's your favorite recipe featuring dairy ingredients?