Greet your kids afterschool with a healthy snack! Today Mandi of Life Your Way shares two easy ways to make popcorn — in a paper bag and on the stovetop.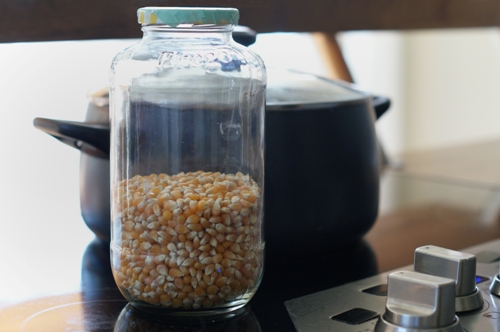 Popcorn is one of my very favorite snacks, but the microwave stuff just isn't that great for you…or your wallet, especially when you have a family of 6 or more!
For a while, I used the handy dandy paper bag trick to make my own microwave popcorn. Have you seen this? It's so cool…and easy as pie:
Take 1/3 cup popcorn kernels and dump them in a regular paper lunch bag. Fold the top over several times, creasing it with your nails or adding a piece of tape to hold it closed.

Place it in the microwave and hit the "popcorn" button (which is usually 2-3 minutes, in case yours doesn't have one) and then listen for the telltale pops. When the popping slows down, open the microwave (even if the time hasn't run out). Let it cool slightly then season with melted butter and salt and you're set!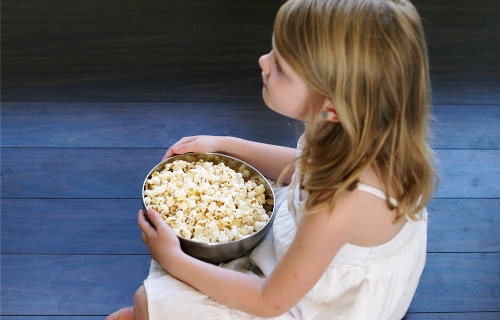 Even though that's pretty much as easy as it gets, our family really prefers stovetop popcorn these days, and it's surprisingly easy as well:
Stovetop Popcorn
Ingredients:
3 tablespoons oil (our family likes sunflower or coconut oil)
1/3-1/2 cup popcorn
sea salt to taste
Directions:
Add oil to a large pot and drop in 3-4 kernels. Set burner to medium high (I set mine to "6"). Cover with a lid and wait for the initial kernels to pop.
After they pop, add the remaining kernels and re-cover the pot.
When the kernels start popping, begin shaking the pot from side to side, keeping it close to the burner.
Continue shaking the pot until the popping slows. Immediately transfer the popcorn to a bowl.
Salt to taste.
Variations:
After transferring the popcorn to a bowl, immediately melt butter in the pot and then drizzle it over the popcorn.
Sprinkle popcorn with parmesan cheese
For savory popcorn, sprinkle with spice blends or dried herbs
For sweet popcorn, sprinkle with cinnamon and/or brown sugar
Yield: 3-4 quarts
Shelf Life: 1-2 days in a tightly sealed container
A perfect afternoon snack for the whole family!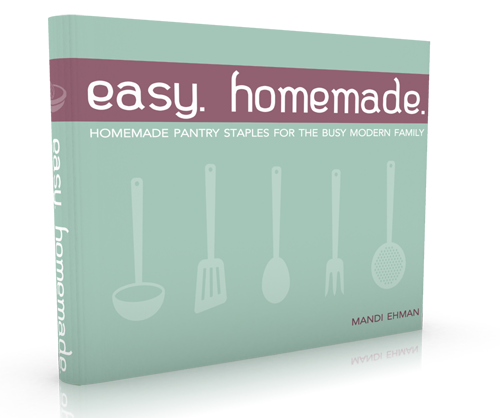 Discover more than 60 recipes for homemade kitchen staples like these in Easy Homemade, which is available for your Kindle, Nook or a full-color PDF to read on your computer for just $0.99 this week only!
PLUS, the first 100 readers to use coupon code LAM100 will get a FREE PDF copy of the ebook. But even if you miss that code, you can pick up your copy – including several great bonuses – for just $0.99!
Click here to get your copy today.
You'll also find me sharing more about the what, why and how of homemade pantry staples at these great blogs:
— Mandi Ehman lives in wild, wonderful West Virginia with her husband of ten years and four beautiful, spunky little girls. As a full-time work-at-home, homeschooling mom, she runs Life Your Way, a site that blends intentional and creative living, and Jungle Deals & Steals, where it's all Amazon, all the time.

URS Guidelines
Remember: Each week at Ultimate Recipe Swap, there is a posted theme. You are welcome to share any recipe that fits the theme and contains a link back to Life as MOM. If you're curious about the upcoming themes, I have a calendar here. This week's theme is Afterschool Snacks.
If you have a recipe that fits the theme, please link it. However, things like Beef Strogonaff will be deleted from Chicken week because it doesn't contain chicken. Please keep this meme as helpful to others as we can.
And don't make me the bad guy! 

What is your favorite afterschool snack?