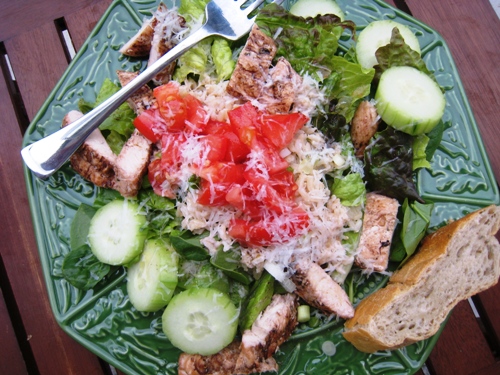 When there's a new baby in the house, there is great joy, excitement, transition — and total upheaval of routines and life. Mealtime, while one of the most important aspects of running a household, can be the trickiest to manage. Baby might be fussy, mom might be tired — but ya still gotta eat.
And even if you don't have a new baby, there are all kinds of life changes, illnesses, and other seasons of life that make mealtime a challenge anytime, any season.
Here are some tried and true easy meals for new — and old — moms:
Feed that Freezer
Whether you fill the freezer prior to baby's arrival or have friends bless you with some freezer meals, having a well-stocked freezer is a blessing. Some items, like frozen burritos or Chicken Bacon Subs are easy to cook from frozen. Others need a chance to thaw. You may have to give it a little thought the night before, but after that, it's smooth sailing.
Quesadillas
Got tortillas and cheese? Then you've got the makings of a great meal. A little leftover meat or veggies can make your quesadillas a little more macho. Serve with salsa and a side salad, and you're good to go.
If you own a griddle you can make many quesadillas at once which makes it an even bigger time saver.
Grilled Cheese
When I buy cheese on sale and bread on clearance, this is one of the most economical, not to mention, easiest meals I make. The panini press makes it even easier. My kids love to dip theirs in mustard, and everyone enjoys a bowl of soup or chili on the side.
Not only does a grilled cheese conjure up all sorts of memories for mom, but it builds memories with your children.
Chimichangas or Burritos
With grated cheese, seasoned taco meat, cooked or canned pinto beans, and a pack of tortillas, a hot and filling dinner comes together easily and quickly. Chimichangas are crisped burritos — super easy to make. A side of fruit or veggies makes it a more well-rounded meal.
If you have time, prep many burritos at once and stash them in the freezer for quicker meals later on. I simply roll a few dozen assembly line fashion and place then by 10's in gallon-size freezer bags. Place in the freezer until ready to serve. Then pull just the number that you want to nuke or reheat in the oven or on the griddle.
Chili
Chili is a beautiful food. It needs no attention. Just throw some tomatoes, beans, meat and spices into the crockpot. And just walk away. At serving time, dish it up in bowls and sprinkle with cheese. Serve veggies and cornbread on the side. Dinner couldn't be easier.
The caveat is if you have a nursing baby that isn't crazy about beans and spices. I never had much of a problem with that. But, if it's an issue, at least your family can eat! (And then enjoy some mom food on your own.)
Take-out
Let's be real here. Sometimes a girl's gotta do what a girl's gotta do. And a run through Del Taco for $0.49 burritos or a splurge on Chinese is something that I sometimes gotta do. Taking a break from the kitchen when there's a new baby in the house is a great way to maintain your cool composure. We save time and effort in the kitchen, not to mention that clean up is a breeze.
As a new — or old — mom, it's imperative that you create a list of go-to meals that are quick and easy. With a little forethought, you'll have a great collection of ideas ready when you're not ready to cook.
What is your favorite go-to meal?
:: Check out more Baby Love all week long.