Often in the life as MOM, we encounter busy nights when we need a quick and easy supper. Take-out is cool. Sandwiches work in a pinch. But, quesadillas are a little more fun — and just as easy.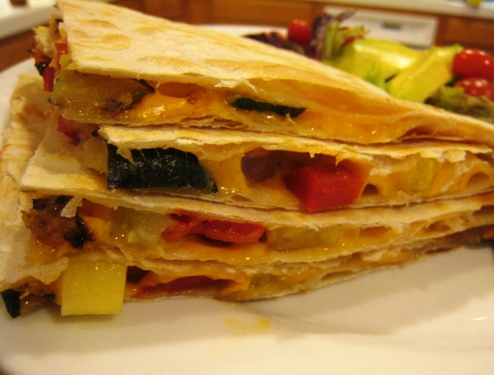 Recipe: Quesadillas
Summary: A quesadilla is simply melted cheese between two tortillas. But you can certainly dress it up with meats and veggies.
Ingredients
corn or flour tortillas
cooked chicken
black beans
sliced jalapenos
any number of cheeses; we usually use cheddar or Monterey jack
Instructions
Heat a griddle or frying pan. Place a flour or corn tortilla on the hot surface. Sprinkle with cheese. Add other toppings, if desired. Sprinkle a little more cheese. Cook until bottom tortilla is toasty and cheese has started to melt. Flip and continue cooking until flip side is golden brown.
Serve with salsa, sour cream, and/or guacamole.
Kids may prefer just plain cheese, but don't hesitate to sneak some veggies by them and see how it goes over.
What do you like to serve on busy nights?
1. Post your recipe on your blog. Please mention www.LifeasMOM.com in your post. Then, come back here to add your link to Mr. Linky below. (Instructions for Mr. Linky are available.)
OR
2. If you don't have a blog, simply tell us about your recipe in the comments section.