Easy Stocking Stuffers
We are a participant in the Amazon Services LLC Associates Program, an affiliate advertising program designed to provide a means for us to earn fees by linking to Amazon.com and affiliated sites. We participate in other affiliate programs as well. For more details, please see our disclosure policy.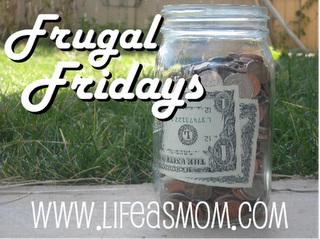 I'll never forget the Christmas I was seventeen. My younger siblings were 14, 12, 10, and 3. I told my mom I would take care of buying the stocking stuffers.
Then I promptly forgot.
Until Christmas Eve when she asked me about it. If I remember correctly, I stood there with my mouth open for several minutes. As a look of panic crept across her face, I grabbed the car keys and headed for the closest grocery store that was still open at 10 pm on Christmas Eve.
$40 later I had some stocking stuffers and a few well learned lessons.
Don't buy stocking stuffers on Christmas Eve at the grocery store.
Plan ahead.
Make a list and check it twice.
Don't make promises that you won't keep, especially to your mother.
Since that fateful Christmas Eve 21 years ago, I've stuffed more than a few stockings. Here are some of the things that we like to buy that don't break the bank.
Breakfast
My kids really don't want to wait for a sit-down breakfast before opening presents on Christmas Day. I didn't either as a kid. My parents' solution was to open a box of See's candy and pass it around. While I still love that tradition — for myself — I'm not about to let my kids get all hyped up on chocolate and toys before I've had a chance to drink my coffee.
My solution is breakfast. In the early years, I bought multipacks of the sugary cereal, which in reality isn't any better than See's. However, more recently, I've used granola bars, clementines, fruit leathers and juice boxes to fill out the stockings — and provide a more wholesome breakfast than Lucky Charms.
If you watch sales and use coupons, you can find these items very affordably. And if you plan ahead, you can request free samples and stockpile them.
Candy and Popcorn
Now that your kids have had their breakfast, it won't hurt to have a bite or two of candy. It's a fun treat — and it's cheap. I try to get novelty candy that we wouldn't normally have, like movie size boxes.
Microwave popcorn or homemade bags of popcorn are a big hit and are usually quite inexpensive. Pair that with a movie to watch later in the day and you've got a fun gift. What kid doesn't want to eat his very own bag of popcorn?
Coloring Books and Dollar Store Activity Books
Coloring books run as low as a dollar and my kids have yet to tire of them. My older guys prefer activity books, like Sudoku, but either way, it's a frugal gift. If you planned ahead at Back To School, you've got some new crayons to add to it.
Videos
Whether you buy them at thrift stores used or new at Walmart or Target, videos don't cost a lot these days and kids get really excited about them. I've seen movies as low as $5 new and about a quarter for something that's been seen before.
Collecting Cards
If your kid is into sports or Pokemon cards, these little packs carry a big punch for about three bucks. I have no idea what the fascination is, but my guys have gone through the craze, and really enjoyed receiving them in their stockings.
Small Lego or Playmobil Kits
It's hard to find cool toys for less than five bucks, but it can be done, especially when you shop online. Recently I found a number of inexpensive Lego sets for three or four dollars. I realized that stocking up for stockings and for the occasional "prize" is not a bad idea, especially since they are hard to find in stores.
Coupons
Remember when you used to make coupon books for your parents? Well, you can do this for your kids. Include free passes to watch a movie, skip the dishes, or stay up late.
Not only does this gift cost you nothing, but it wins you the Mother of the Year Award if you create your coupons wisely.
Stocking stuffers don't have to cost you an arm and a leg. With a little wise planning and clever shopping, you can treat your kiddos to all kinds of goodies.
How do YOU save money?
Whether it's stocking stuffers or some other money saving idea, share it with us by posting your link below or leaving a comment.