It's important to have a list of easy meals to draw from on busy weeknights.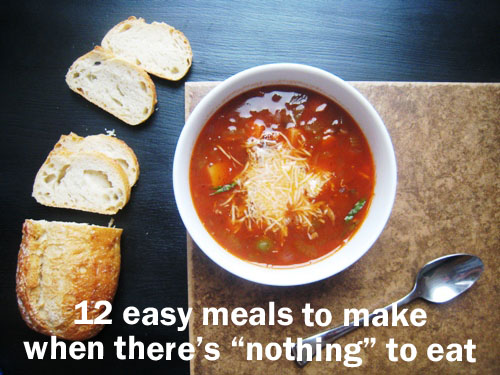 Looking for something easy to fix during a busy weeknight? I hear ya. Between our weekly date night, hockey game night, and two nights of hockey practice, our weeknights are pretty full. Easy is the name of the dinnertime game.
A few weeks ago I drummed up a list of 12 Easy Meals to Make when There's "Nothing" to Eat. It has become my "go-to" list for lunches and dinners when I feel scattered and unproductive. One week we ate them all.
When I'm tempted to run for burgers, I look to this list and can usually scare something up. I even made a printable grocery list so that I could easily keep the staples on hand.
Easy meals = lifesaving.

URS Guidelines
Remember: Each week at Ultimate Recipe Swap, there is a posted theme. You are welcome to share any recipe that fits the theme and contains a link back to Life as MOM. If you're curious about the upcoming themes, I have a calendar here. This week's theme is Easy Weeknight Dinners
If you have a recipe that fits the theme, please link it. However, things like Beef Strogonaff will be deleted from Chicken week because it doesn't contain chicken. Please keep this meme as helpful to others as we can.
And don't make me the bad guy! 

What's a favorite easy meal at your house?