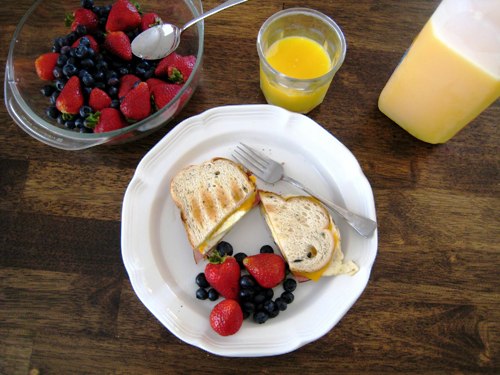 This week is all about getting good habits going.
We can enter the new year with such good intentions, but it's sometimes hard to follow through with those goals. It's good to sit back and think and plan what we can do to carry those intentions to fruition.
One good habit that is essential to your health and your "life as MOM" is to eat breakfast every day. You know the story, you've heard it since you were a kid….
Breakfast is the Most Important Meal of the Day
Not only does breakfast provide calories and energy for the day ahead, but it can also be a very tasty way to spend your morning.
Oftentimes, however, we think that we don't have time to eat breakfast or our mornings are so scattered, we just don't make eating a good meal a priority.
Yet, eating a morning meal is not just good for you — it's good for your kids! So model good eating habits and start breaking that fast each day.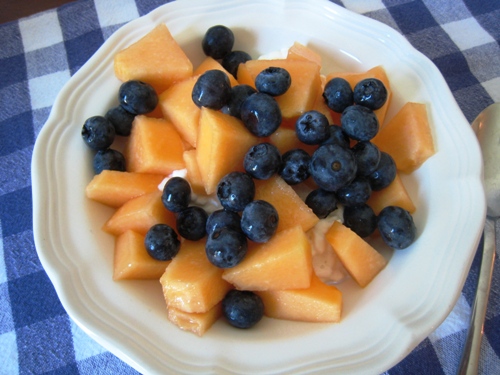 Here are some ways to make breakfast an easy part of your morning:
Make use of your freezer
You'd be surprised at how many breakfast foods do well in the freezer. Egg dishes, cinnamon rolls, and even smoothies can be prepared ahead of time and stashed in the freezer.
Just pull a few key items out the night before and allow them to thaw or rise in the refrigerator. They'll be ready to bake or serve first thing in the morning.
Enjoy dairy and fresh fruit
Some of my favorite breakfasts consist of fresh fruit and either cottage cheese or yogurt. The dairy products provide the calcium and protein while the fruit adds a juicy sweetness — and makes it a little more fun.
Set it up the night before
Lay out bowls and spoons and boxed cereal or oatmeal before you go to bed at night. Mix up an egg dish to stash in the fridge. Assemble your smoothie ingredients in the blender bowl and slip in on the refrigerator shelf.
By setting things up before you go to bed, you've saved yourself some critical steps in the morning. And less work when you're bleary eyed is more likely to lead to good eating.

Eat Oatmeal
Oatmeal is said to be a great source of fiber. Experience tells me it's a great stick-to-your-ribs kind of breakfast. Provided that it's not mushy, I love oatmeal, especially with cream, nuts, dried fruit, and a little brown sugar. Yum!
I often make instant oatmeal packets for my kids which they devour in short order. I prefer cook-on-the-stove oatmeal, so when I mix up a pot, I often let them shake on a few sprinkles in stead of sugar. They think the colored sprinkles are way cool and it helps them enjoy a good breakfast in a fun way.
Coach's Oats has provided me with oats to share with my readers. I first heard about Coach's Oats from my father-in-law when he came to stay at our house for a couple weeks last winter. He made a special trip to Costco since he had left his own supply at home.
He is a huge fan of these steel-cut oats, as is his son, and his grandsons.
This oatmeal is steel-cut rather than rolled and then toasted, giving it body and texture that you don't see in regular oats. It cooks quickly, but it doesn't get soggy. Definitely a winner in my book.
This week five LifeasMOM readers will get the chance to test out Coach's Oats for themselves.
To Participate:

Leave a comment telling us your favorite way to serve breakfast. I will randomly choose five readers to each receive a large bag of Coach's Oats. Recipients will be notified via email. Remember, you must respond within 48 hours to claim your coupon.
Comments on this post will be open until Sunday, January 16 at 8 pm, PST.
This giveaway is now closed. Congrats to the winners,
chayo.ramirez@
shmilgah@
kyleandbridget@
bluehydrangea@
copterwife@
chayo.ramirez@shmilgah@kyleandbridget@bluehydrangea@copterwife@
Disclosure: Coach's Oats is an advertising sponsor for the Get a Good Habit Going series.
For more inspiration, check out other Good Habits to Get Going.