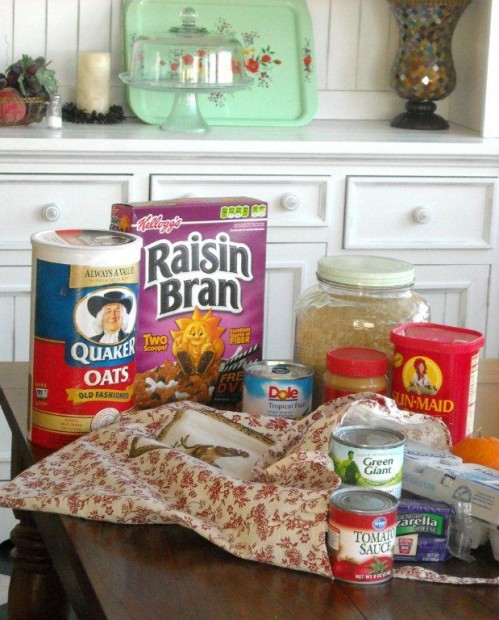 Today's guest post is provided by Cheryl @ Moms In Need of Mercy. I appreciate Cheryl's simple approach to meal planning and "eating from the pantry."
I, along with many of you, took the "Eat from the Pantry Challenge." And then I called it quits. For my family, the challenge offered a fun and creative way to take my menu-planning skills up a notch. But when it started feeling like we were in survival mode, and there was no natural disaster or financial emergency to force us into this mode, my husband asked me to stop the self-imposed challenge and return to the nearest grocery store.
While it may not seem like it, grocery shopping each week is indeed a Pantry Challenge. Every week I start a new challenge. At the end of every week, I finish that challenge and start another one. It's called a menu plan.
At the start of the week, you may not have much on the shelves–especially if you've emptied your pantry these past several weeks. But as you write your menu around what you do have on hand and what is on sale, you're creating a plan to stock those shelves and feed your family every day of the week. While many people plan only for their weekly dinners, challenge yourself to plan all of your breakfasts, lunches, dinners and snacks for the week.
Armed with this plan to stock your pantry, fridge and freezer, you'll head to the store, spend some money, and eat from your stash all week long. By week's end, your pantry will be getting bare again. That's ok. You'll head to the store again. The challenge comes in sticking to your plan.
Effective planning and pantry eating also involves stocking up when you see meats and staples on sale for absolute rock-bottom prices. You will use these as a starting point in your menu plan, heading to the store only for missing meal ingredients. As you become more savvy at stocking your pantry and planning your menu from what's inside, your grocery cart will not be very full—and that's a good thing, especially at check-out! Plus, a well-stocked pantry offers you the flexibility to veer from the plan with what's on hand without going to the store.
If you have emptied your pantry during the challenge, you may be wondering how you're going to replenish everything—much less pay for it. Take it week by week. Unless you're preparing for long-term emergency survival, buy only what you need for the week (and extra items on sale, as your budget permits).
While this may feel unsettling at first, if you're planning properly and shopping accordingly, you can rest assured you'll have everything you need to feed your family for the week–and it will all be stashed away nicely in your pantry. Challenge yourself to faithfully execute the plan. You'll soon realize just how easy it is to do an "Eat from the Pantry Challenge" every week for the rest of your life!
— Cheryl Hackett traded the glamour of her job as a news anchor for the glory of motherhood (she now keeps busy with three boys under five). Cheryl writes Moms In Need of Mercy, a blog aimed at providing practical help and encouragement for women in the areas of homemaking, parenting, marriage, saving money, and finding grace in everyday (and often messy) moments with kids.