Eat From Your Pantry to Save Money
We are a participant in the Amazon Services LLC Associates Program, an affiliate advertising program designed to provide a means for us to earn fees by linking to Amazon.com and affiliated sites. We participate in other affiliate programs as well. For more details, please see our disclosure policy.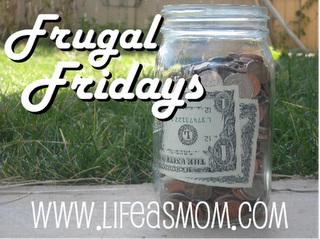 One of the ways that I'm most able to control our expenses is how much I spend on food.
At one point in our "serious debt-fighting days," I cut our food expenses down to $400 a month for a family of 7. It was difficult and I'm not sure that I could pull it off today, but, it was a big help to making ends meet.
We spend more than that now as my kids are bigger with bigger appetites. And I've moved away from some of the processed foods that I used to get for mere pennies after sales and coupons. But, we're still able to eat pretty well on a lower food budget.
Interestingly enough, one thing that helps us keep things low is to occasionally "eat from the pantry."
Instead of shopping for a lot of food each week, I spend my energy using up things that I already have. I've done this for the last two Januarys and it's really helped us save a chunk of change. While I still buy groceries during a "Pantry Challenge," I focus on making more things from scratch and using up what we have in the cupboards, refrigerator, and freezer.
It's like the Food Network show Chopped, but in real life.
The Benefits of a Pantry Challenge
We discover that we really do have a lot of food. If there were a true emergency, we'd be okay.
We find new recipes and food combinations.
We enjoy more baked goods because I bake more often.
We rotate our stock.
We become more mindful of expiration dates.
We save money.
Not only do we make use of what we have, I'm more thankful when all is said and done. Most of us live in a world of abundance. And when you're challenged to make the most of what you have, it's a beautiful reminder of God's provision.
Summertime Pantry Challenge

Starting July 1, I'm on a Summertime Pantry Challenge: to build my menus around what we already have and then supplement sparingly from sales, the farmers' market, and surplus produce that my friends want to share with me. 😉 I'm not afraid to go shopping. But, I want to make sure I'm making good use of what we have first.

Want to come along? The details are over at Good Cheap Eats where I'll be recording the adventures and dishes that result from this summertime "eat from the pantry" challenge.
How do YOU save money?