This week is all about getting a good habit going.
One food habit I want to improve is feeding my family more veggies. Foodies, doctors, nutrionists and arm chair dieticians can debate all day long about fats and grains and dairy. But, one thing they generally agree on is that we could all use a few more plants in our diets.
This past week I scored major big time at my local Ralphs. They had lots of vegetables marked down to bargain prices. Cress for a quarter, corn – 4 ears for a buck. I even found veggie trays for $3.99, about half their normal price!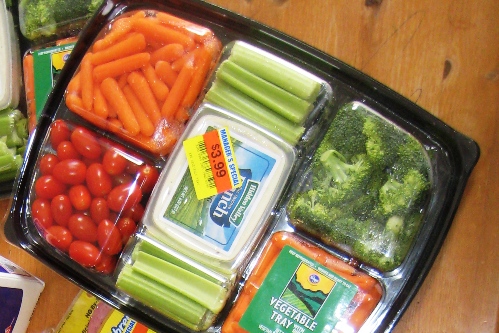 And since those items were nearing their sell-by dates, it was in our best interests to eat them quickly. I don't think I've ever bought a party tray unless it was on markdown. And I usually buy several.
We rarely have big parties, but there are many ways with a party tray. Let me count them:
8 Great Ways with a Party Tray

originally published in November 2008

1. Thin the dip with buttermilk to make a tasty salad dressing.

2. Saute the broccoli in garlic, crushed red pepper, and oil for a delicious vegetable stir fry.

3. Make Lynn's Panera Bread Broccoli Cheddar Soup.

4. Use the carrots in Carrot Cake and Carrot Muffins.

5. Toss the dip with boiled potato chunks and chopped celery and red onion to make a filling potato salad.

6. Boil a pound of pasta and blanch the broccoli and carrots. Toss together with Italian salad dressing and chopped peppers and tomatoes for a fresh-tasting pasta salad.

7. Boil the carrots and broccoli until tender. Toss with melted butter, ginger, grated orange peel, and a splash of orange juice. Serve hot.

8. Set on the counter and encourage your kids to snack on veggies.
How do YOU make veggies easier to swallow at your house?

For more inspiration, check out Get a Good Habit Going.