Eat well and spend less by thinking seasonal as you shop. What's on sale? What's in season? The Eat Well, Spend Less crowd has you covered.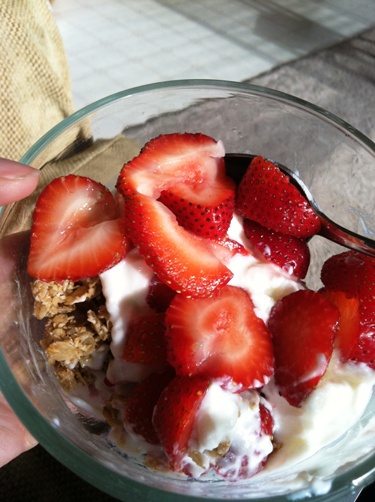 Though Mother Nature hasn't quite got the clue in all parts of the world, it is officially springtime. That means warmer weather, longer days, and spring produce!
The options at the dinner table start to change after a long, cold winter. Since we started getting a produce box from Abundant Harvest Organics a few years ago, we've seen how ready our taste buds are for juicy apricots and cherries once April rolls around. Peas and radishes? Yes, please, just call me Peter Rabbit.
This month the Eat Well, Spend Less group posted about the springtime changes coming to their kitchens. Check out the posts from around the web in case you missed them earlier this week. They promise to help you save money in the kitchen this spring.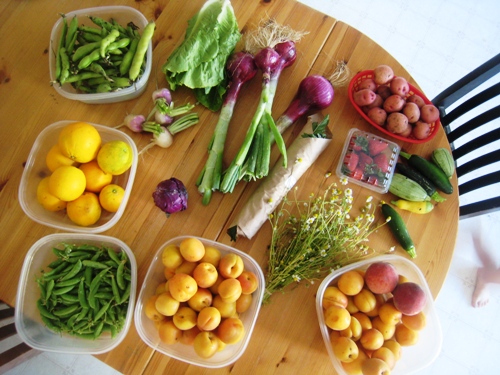 What to Do with Spring Produce – Check out my round up of 50 recipes featuring spring produce. I cannot wait until the above pictured fruits and veg show up in my produce box! I just might be brave enough to try rhubarb if it made an appearance.
Out with the old and in with the new! Shaina gives you the lowdown on Spring Cleaning Your Pantry, including time tables for how long to keep spices, nuts, grains, and other pantry staples.
Amy at Kingdom First Mom offers great details about the whens and hows of a Spring Produce Stock-Up. Know when to look for the great deals and how to preserve or serve them when you get them.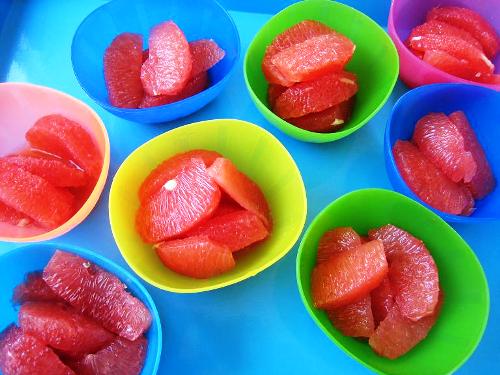 Want to feed your kids more fruits and veg? Mandi has a great roundup of 46 Ways to Serve Fruits and Veggies at Snacktime. You will never run out of inspiration.
Spring greens have definitely been profuse in our produce box. Katie from Kitchen Stewardship demonstrates How to Dehydrate Spring Greens so that you can preserve the bounty of the season.
Five Things I Plan to Do in the Kitchen this Spring and Summer – I love how Carrie has set some goals for herself for kitchen habits this coming season. From filling the freezer (rah! rah!) to trying adventurous salads, she's got her thinking cap on for making the most of the season.
Got a favorite trick for saving money on groceries in the springtime?
This is Frugal Friday. In an effort to make these weekly financial discussions more interactive, I'm no longer posting a link-up. Feel free to leave a link in the comments. But better yet, chat with us on today's topic.