Making food goals at the beginning of the year can set the right tone for how you shop, how you eat, and how you save your money in the coming months.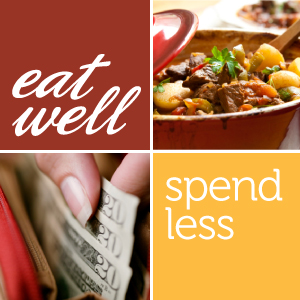 About 9 months ago, the Eat Well, Spend Less girls got together to brainstorm ideas on how to feed our families healthy and delicious meals and still stay under budget. It's been a fabulous experience to work with such an amazing group of women! And we're so excited to continue this series into the new year.
This month we're talking about food goals. Making food goals or resolutions at the beginning of the year can set the right tone for how you shop, how you eat, and how you save your money in the coming months.
Collectively, we're nine moms who live in different regions of the continent with different family sizes and eating habits. But, we're intent on doing the best for our families that we can — and still stay under budget. I hope that you will have some time to visit each of these lovely ladies and check out their food goals for the new year.
Food Goals for the New Year
Teaching Kids to Cook – Earlier this week I shared how I'm teaching my boys how to cook this year. I know that if it's easier for them to pull a meal together on their own, we'll be less likely to eat out or see smoke come out my ears when I'm overwraught. Teaching them kitchen skilz is something that "should" save us money in the long run. You can read my plan of action over here.
Wasting Less in the Kitchen – Carrie at Springs Bargains shared some great ideas for wasting less in the kitchen. I particularly like her tips about freezing only tested recipes so you don't waste your investment as well as freezing things while still fresh and at optimum quality, taste, and texture. Girl after my own freezer-loving heart.
Make Never Ending Chicken Broth – Katie from Kitchen Stewardship knows how to stretch the goodness in her kitchen. I love her idea for reusing chicken bones to make more than one batch of broth. While I haven't followed her process exactly, I did run a second batch of broth after cooking a turkey recently and making the first batch of broth. I hate messing with the carcass, so I just added more water, peppercorns, bay leaves, and other seasonings to the pot and made a second batch. Genius.
Eating Better for Baby – Aimee from Simple Bites is one of several EWSL ladies having babies this year. I think I lost count. While my own baby years now seem to be passed, I well remember that strong desire to eat as well as I could for my babe in the womb. Aimee offers some great tips for smart snacking (pregnant or otherwise) as well as a super easy recipe for baked rice pilaf. Yum!
Saving Money on Healthy Foods – Like most of us, Amy from Kingdom First Mom is working toward eating and living better. She posts some simple suggestions for saving money on healthy foods. I can attest that her ideas are proven to work. Many, maybe even most of them, are ways that we are able to eat more organic, healthier foods without spending a lot more money than we were previously.
Changing Your Diet for Good – Often times, we make food goals or have them forced upon us by allergies or other health conditions. It can be hard to make them stick, or at least make them pleasant when we focus on what we're missing out on. Mandi from Life Your Way shares some great ideas for thriving amidst the changes.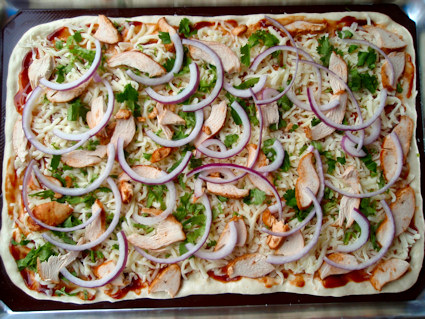 Crunching the Food Budget – Tammy from Tammy's Recipes is expert at creating delicious meals on a low budget. This month she explores specific ways to lower the food budget without compromising quality and taste. Doesn't that pizza look amazing?
Organizing the Kitchen – As you know, I'm on a mission this year to organize our home better. Food For My Family's Shaina gets us all drooling over kitchens that look uber-fun to cook in. Not only does she show off some beautiful kitchens, but she also provides a game plan for overall kitchen organization.
Baking with Whole Grain Flours – Over the last year I've dabbled in using more whole grains in my baking. So, I loved seeing Katie from Good Life Eats post tips about how to whole grain flours. She also shares a beautiful Multi Grain Pumpkin Cranberry Bread. Yum! Another way to use all my squash!
That's it for this month. We'll be back in a few weeks exploring how to make food more fun!
What are YOUR food goals for the year?