New babies are cause for celebration! But, the prerequisite good food doesn't need to be expensive. Today I'm sharing some ideas on how to eat well and spend less at baby time.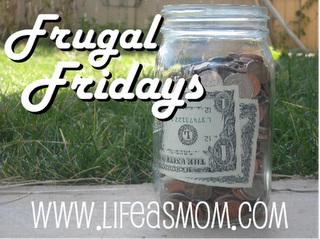 It's amazing to me to think how quickly the time has passed since I gave birth to our first child. He's approaching fifteen! Likewise, the Baby of the family is going to be four this year.
We've been blessed to welcome six babies to our fold over the years. Each time was cause for great celebration! And in our family, that means good eats! From the moment that kid popped out, usually in the 9-pound range, I was ravenous. And while I was still eating for two, my family wanted to eat, too. Thankfully, we came up with some family food traditions at baby time that made my postpartum days easy and delicious.
I shared some of those earlier this week, so if you missed it, head here to read about our good eating.
This month the Eat Well, Spend Less bloggers are at it again, sharing great ways to eat well and spend less. Since our group has recently welcomed three new babies to our families, it seemed only appropriate to share some of the ways that we welcome babies — and eat well and spend less.
And since we collectively have 35 children, I think we might know what we're talking about! 😉

Kitchen Planning When You're Pregnant – Amy is a mom of three. Her diet has changed a lot since that first babe arrived and she's gained some great experience in how to plan for each trimester and its unique characteristics. Wondering how to deal with nausea or make the most of your mid-pregnancy energy? Amy's got great suggestions for doing so on a budget.
Taking Meals to a New Mom – Carrie just gave birth to Baby Bargains and has been the happy recipient of meals gifted from friends. She offers great tips for doing the same for your friends.
Good Eating and Welcoming a New Baby – As you know, we are big eaters around here. And we've got special traditions when it comes to welcoming a new baby. I share those traditions and other ideas for making sure the new mama (and her peeps) are well fed in the first hours or weeks home.
The Postpartum Diet – Aimee recently welcomed Baby Clara to her family. And while I offered to send her a pie to celebrate, she turned me down, saying that she's sticking to her healthy eating resolutions. In her post, she shares her goals for the postpartum diet (energy & healing, milk production & quality, and bowel regularity) as well as some food ideas and recipes.
A No-Work Kitchen After Baby Arrives – Tammy's baby, Channah, arrived a month early! Needless to say, the household wasn't quite ready to welcome a new little one. Tammy offers some great suggestions for how to reduce your work load and enjoy a no-work kitchen in the newborn daze.
Food for New Parents to Eat Well and Spend Less – Shaina, mom of four, is no stranger to the baby daze. Her post is full of sumptuous photographs as well as great tips for eating well and abundantly in those first few weeks after you bring a little one home.
A Homemade Baby Food Primer – While your newborn certainly isn't going to start gnawing away on a biscuit anytime soon, those first six months fly by in a flash. This week Mandi offers a tutorial on homemade baby food. So easy, nutritious, and economical!
Feeding a Baby Real Food – Katie welcomed a new little one last year. So, her babe in arms is ready to eating real food. And in Katie's kitchen, I do mean "real food." Check out her tips for feeding your baby a non-processed diet.
How do YOU save money?
Remember to follow the Frugal Friday guidelines or risk being deleted.