Teaching your children to cook can be a great way to teach them to eat well and spend less.

One of my life's missions is to eat well. Without going into debt to do it.
And part of that mission is to make sure that my kids know how to cook so that they can eat well and spend less after they've left my home. In May the Eat Well Spend Less girls shared tips and tricks for doing just that: getting our kids in the kitchen and equipping them with important life skills.
In case you missed those posts, take some time this weekend to catch up. You won't be sorry.
Easy Recipes Kids Can Cook – Aimee from Simple Bites rounded up a bunch of tasty recipes that are easy for kids to make on their own or with a little help.
When Everyone Wants to Help – Mom of three girls with a baby on the way, Amy from Kingdom First Mom shared some great tips for that balancing act when all your kids want to help at one time.
Teaching Your Kids While You Grocery Shop – A grocery geek after my own heart, Carrie examined the different skills that kids learn when you cart them along on the grocery shopping trip. It doesn't have to be a headache. It can be a learning experience!
Homemade Fruit Popsicles – With summer practically breaking down the door, Katie shared a fun recipe and method for homemade popsicles. Healthy doesn't mean you have to be the "uncool" household.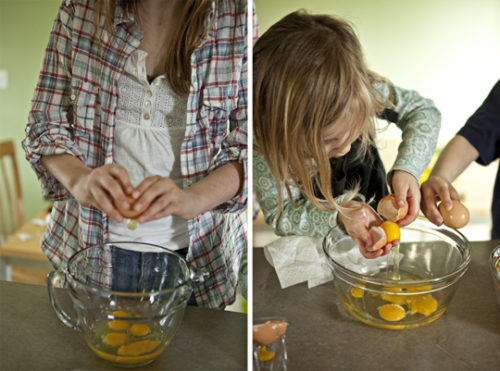 photo credit: Shaina
Overcoming the Stress of Having Kids in the Kitchen – It's easy to get overwhelmed with so many helpers. Mandi shares some tips for getting over that and enjoying the process of cooking with your children.
Getting Your Kids in the Kitchen – Shaina is a stellar example to me of including kids in the kitchen. It was her five-year old's ability to make cupcakes by herself that prompted me to loosen my grip on the kitchen. Her post is a wealth of inspiration.
11 Tips for Kids in the Kitchen Without Losing Your Sanity – Tammy is a girl after my own heart. Mom of five little ones, she's busy trying to keep everyone fed, but she makes a point of including her kids — and making it fun — in the kitchen.
Letting Kids Cook – As for me, I'm still learning how to do this. Last month I had an epiphany when I realized my boys know how to do a lot more than I let them — or than they're letting on. Time to let my little birds spread their wings a little!
Got any tricks to getting kids in the kitchen?
We'd love to hear about your experiences.