Enjoy summer produce at the peak of season. You'll eat and spend less!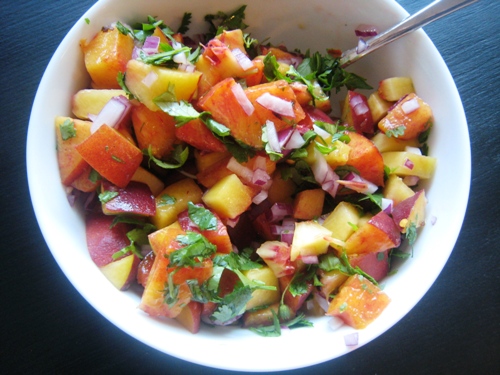 I have really been enjoying the fruits of summer. Last week we ate up the last of our peaches in Peach Salsa. So good over grilled meats! And it's been great to watch my kids eat more fruit and veg.
I took a week off our produce box to save some grocery money and to catch up on all the zucchini. I've still got some zukes to take care before the next load arrives.
Summer produce was the theme of our Eat Well, Spend Less venture this month. Check out these posts from around the web:
How to Use Your CSA Share :: Life As Mom
Earlier this month I shared a variety of ways to use up what you get in your produce box, CSA share, or find on sale at the store.
Join Me for Canning Week (Recipe: Sweet Cherry-Plum Jam) :: Simple Bites
Aimee hosted a week's worth of canning ideas and inspiration. Her jam looks great — and cherries are on sale this week in my neck of the woods!
Ferment Your Own Vegetables (& a Kimchi Recipe) :: Kitchen Stewardship
Katie does a great job feeding her family real food — even the kinda weird stuff. This month she explained how to ferment vegetables and included a recipe for kimchi.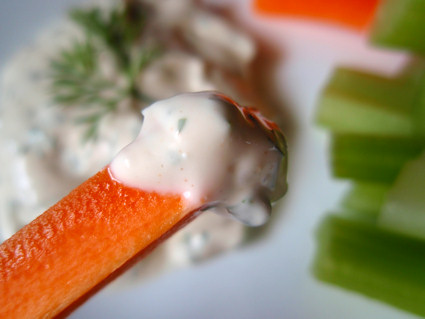 10 Easy Ways to Eat More Veggies :: Tammy's Recipes
I love seeing how Tammy stretches a tight budget to feed her family wonderfully sumptuous meals. Check out her tips for eating more veggies. Love them!
Eat Well and Spend Less with Garden-Fresh Peppers :: Keeping the Kingdom First
We love spicy food at our house, so I'm loving Amy's recipe for spicy salsa. Yum! Where are the chips?
9 Tasty Zucchini Recipes :: Mandi from Food Your Way
Got Zucchini? Head over to Mandi's round up of zucchini recipes. Those Zucchini Parmesan Crisps look amazing!
9 Ways to Preserve Summer Produce :: Shaina from Food Your Way
Shaina posted a round up of things to can. Those pickles have me drooling. I pickled earlier this year — and wish I'd known where that recipe was! In any case, we only have 2 out of 8 quarts left, so hopefully it's not too late to find pickling cucumbers in these here parts.
Have you got a favorite thing to do with summer produce?