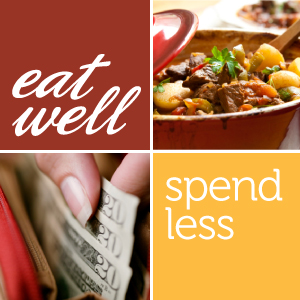 This month, the Eat Well, Spend Less crew returns with the Back to Basics edition. For many of us, January was a do-over of sorts or a way to refocus on the spending, cooking, and eating goals that might fall by the wayside during the busy holidays.
Mandi from Life…Your Way is a learn-it kind of girl. I love it how she tackles mastering the unknown. In her post How to Cook from Scratch When You Don't Know How she shares a recipe for Peanut Butter Swirl Brownies as well as some hard-earned wisdom on how to cook.
What could be more basic than pasta? Carrie from Denver Bargains shared How to Cook Pasta Like a Pro, providing some great tips, including how to reheat leftovers. And it's NOT with a microwave.
Katie from Kitchen Stewardship's post, How to Boil a Husband, is a fun story of winning her husband over to a better way of eating. She's quite persuasive that girl. I well remember when my own husband's doctor warned him about his blood pressure and cholesterol levels. Katie was a wealth of info to me  and gets some of the credit for steering us in a better way of eating.
January is a great time for goal setting. Amy from Kingdom First Mom posted her family's Food Goals for 2013, including gardening, menu planning, and bringing the kids in the kitchen. Love it!
Food for My Family's Shaina offered her family's rituals and routines in Back to the Basics of Feeding Your Family. I love her purposefulness in serving her family great meals.
Aimee from Simple Bites served up a sweet tale of her newlywed days as well as a tasty bulk recipe for Brown Chicken Stock. You are sure to smile over her lovestory.
As for me, well, we ate down the Pantry. The month of January was an endless game of Chopped. Thankfully, my husband says that I move on to the next round. We ate well, and we spent less. Be sure to read 7 Lessons Learned from a Pantry Challenge in case you missed it.